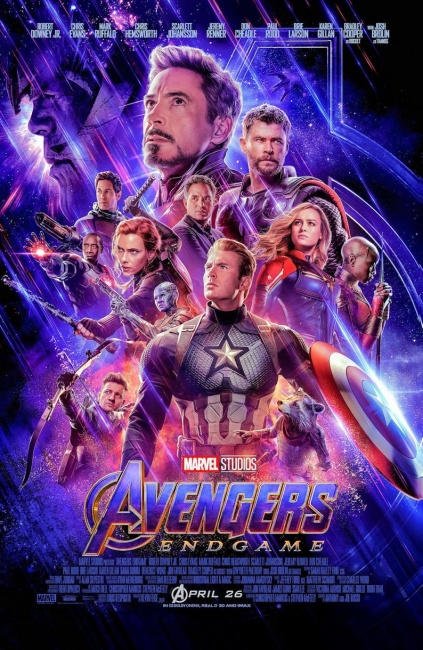 Marvel Studios'
Avengers: Endgame
obliterated all opening weekend box office records with an astounding $350 million debut in North America, which was just part of an equally impressive global bow totaling $1.2 billion
. Endgame
is already the #1 film of 2019 so far in both the domestic and global markets, and there is little chance that any other film this year will be able to match those astronomical totals.
All by itself
Endgame
, which was directed by the Russo brothers, who also helmed
Infinity War,
generated more box office revenue than the previous record total for all the films on any weekend ($314 million), and accounted for over 88-90% of all the ticket sales for this new record weekend ($397 million).
Endgame
earned a record $60 million at Thursday previews, then blew away
Star Wars: The Force Awakens'
single-day record ($119 million on its first Friday) with a $156.7 million Friday total (
Endgame
also has the biggest "pure" Friday—sans Thursday totals—with $96.1 million, the largest Saturday haul ($109 million), and the top Sunday receipts ($84.3 million).
Endgame
bested its predecessor,
Infinity War,
which held the North American box office record with $258 million, by 36%, and did it all despite a 3-hour run time, which necessitated the biggest launch of all time, 4,662 theaters here in North America. It will take some time to sort out all the records (concession sales, IMAX openings, 3-D tickets, etc.), and given the state of flux in which movie distribution finds itself with streaming of new films an increasing threat to theatrical showings,
Endgame
just might have set an opening weekend record that will last far longer than
Amazing Spider-Man's
4-year reign from 2002 until 2006 when
Pirates of the Caribbean
set a new mark.
Avengers: Endgame
, the twenty-second release from Marvel Studios, also marks the culmination of the first wave of Marvel films, which have become increasingly successful thanks to a formula that includes top tier acting talent, strong production values, and plenty of humor as well as the action set pieces that the genre demands. But the real success behind the Marvel films lies in the superhero characters themselves, flawed and often squabbling as they may be, they are just plain fun to be with—the late Stan Lee's "superheroes with hang-ups" it appears, are more than human enough to be relatable.
Marvel Studios' Kevin Feige deserves lots of credit for developing the Marvel Cinematic Universe methodically over the past decade. The fact that Marvel Studios did not have the screen rights to many Marvel characters including
Spider-Man
and the
X-Men
, forced Feige and company to create major box office stars out of second-tier comic book characters like
Guardians of the Galaxy, Captain Marvel, Ant-Man
, and
Black Panther
. With a deft mixture of stand-alone origin stories leading to multiple hero crossover films like
Captain America: Civil War
and the Avengers movies, Marvel Studios created the conditions that led to
Endgame's
extraordinarily successful debut. Marvel Studios' films have now earned a total of $19.8 billion globally with nine of the 22 films now over the $1 billion mark in earnings.
Disney's ad campaign for
Avengers: Endgame
also stands out for its largely spoiler-free trailers and well-placed TV ads. The campaign's relative restraint was warranted—given the success of
Infinity War,
advertising overkill was unnecessary—
Endgame's
enormous debut was forged by over a decade's worth of solid filmmaking that began with the release of the first Marvel Studios' film,
Iron Man
in 2008.
Weekend Box Office (Studio Estimates): April 26-28 2019

Film

Weekend Gross

Screens

Avg./Screen

Total Gross

Wk#

1

Avengers: Endgame

$350,000,000

4,662

$75,075

$350,000,000

1

2

Captain Marvel

$8,051,000

2,435

$3,306

$413,580,047

8

3

The Curse of La Llorona

$7,500,000

3,372

$2,224

$41,284,301

2

4

Breakthrough

$6,304,000

2,913

$2,164

$26,114,230

2

5

Shazam!

$5,520,000

3,631

$1,520

$131,149,727

4

6

Little

$3,438,000

2,119

$1,622

$35,846,255

3

7

Dumbo

$3,239,000

2,380

$1,361

$107,005,558

5

8

Pet Sematary

$1,290,000

1,655

$779

$52,612,457

4

9

Us

$1,141,000

1,255

$909

$172,844,635

6

10

Penguins (Disneynature)

$1,051,000

1,815

$579

$5,721,426

2
Endgame is already the #4 film in the history of the burgeoning Chinese market thanks to a $330.5 million launch, and it scored the highest ever weekend opening in 43 overseas markets, and took in an opening week record $859 million outside of North America, demonstrating the global reach of Marvel characters. That total is more than $400 million more than the previous record set by The Fate of the Furious—and Endgame's $1.2 billion global debut in nearly double Infinity War's previous record of $640.5 million.

The big question is what will happen to this mega-hit over the next few weeks? With such a big opening, there will be a significant drop next weekend, but Avengers: Endgame still has a lot going for it, notably a 96% positive rating on review aggregator Rotten Tomatoes, and a stellar "A+" CinemaScore from opening weekend audiences that skewed male (57%) and a bit older (61% over 25). Though it would take more space than is available here to chronicle all the records Endgame has broken, there are still some key records to top, including The Force Awakens' $937 million domestic gross, and Avatar's amazing $2.8 billion global total. Endgame will face increasing competition over the weeks ahead, with Detective Pikachu slated to open on May 10, and it is too early to discern exactly how "front-loaded" this culmination to the first major arc of the MCU really is, but it should be fun to see how this plays out over the coming month.

As noted Endgame was responsible for almost 90% of this weekend's domestic box office total, which doesn't leave much for the rest of the films, though it should be noted that Marvel Studios' Captain Marvel received an "Avengers Bounce," as it dropped just 11.1% in its eighth weekend of release, earning $8 million to drive its domestic total to $414 million, surpassing Wonder Woman (not adjusting for inflation).

Warner Bros. Shazam dropped 66.5%, but still added $5.5 million to bring its domestic total to $131.1 million. This $100 million production has earned $346.3 million worldwide so far.

Next weekend STX will drop its first animated feature Uglydolls into 3,600 theaters, while the Seth Rogan comedy Long Shot heads into 3,100 locations, and Screen Gems will release the suspense thriller Intruder.