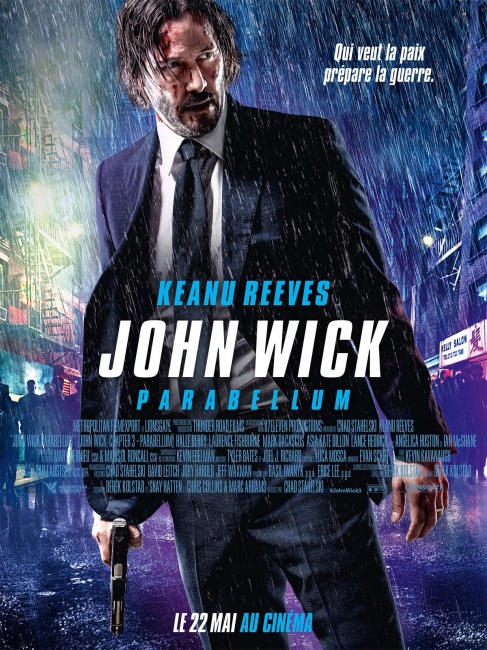 The 'threequel,'
John Wick 3—Parabellum
, opened an unprecedented 87% higher than its predecessor, signaling the full "arrival" of a potent new action film franchise with a box office clout big enough to put it in the conversation with its established genre rivals (
Mission Impossible, Bond, Taken, Bourne
).
John Wick 3's
$57 million bow put an end to
Avengers: Endgame's
three-week run as box office champ, but it wasn't enough to keep the positive year-over-year trend that had developed in May (largely the result of
Endgame's
massive run) going, as the box office, which had trimmed its year-over-year deficit with 2018 from 16% at the end of March, to just 9% after last weekend, resumed its losing ways as it slipped 30.8% from the same weekend last year when
Deadpool 2
opened with $125.5 million.
Though
John Wick 3's
opening was not at the blockbuster/superhero film level, it was still very impressive for an R-rated action film. All three
Wick
films have been helmed by stunt man-turned-director Chad Stahelski, so it is no surprise that the series is characterized by almost balletic scenes of choreographed violence, or that audiences respond to this stylized, highly kinetic moviemaking style.
The first
John Wick
film debuted in 2014 with a slightly better than expected $14.4 million. Strong reviews and good word-of-mouth helped the franchise take a major step forward at the box office with
John Wick 2
in 2017, which opened with $30.4 million.
John Wick 3
, which earned an excellent 88% positive rating on review aggregator Rotten Tomatoes and an "A-" CinemaScore from opening weekend audiences, took the franchise to a new level with its $57.5 million bow, an 87% jump over
John Wick 2.
This kind of a boost between the second and third films of a franchise is almost unheard of (OK,
Toy Story 3
managed a 92% gain, but it had the advantage of 11 years of ticket price inflation plus for the first time in the franchise, 3D revenue). A good portion of the credit for the
Wick
series' tremendous growth also has to go to star Keanu Reeves, who has had more than his share of disappointing outings, but whose work in films like
Matrix Trilogy
have won him a following among younger viewers and critics.
Will
John Wick 4
deliver a similar percentage boost to the series? Well the odds are against it, but the franchise has room to grow both here and overseas. One major obstacle is the franchise's limited cross gender appeal. Males made up 64% of the opening weekend audiences, which skewed younger for an R-rated film with 60% of the crowd in the 18-34 bracket.
Weekend Box Office (Studio Estimates): May 17-19 2019

Film

Weekend Gross

Screens

Avg./Screen

Total Gross

Wk#

1

John Wick: Chapter 3 - Parabellum

$57,025,000

3,850

$14,812

$57,025,000

1

2

Avengers: Endgame

$29,411,000

4,220

$6,969

$770,805,870

4

3

Pokemon Detective Pikachu

$24,815,000

4,248

$5,842

$94,001,846

2

4

A Dog's Journey

$8,000,000

3,267

$2,449

$8,000,000

1

5

The Hustle

$6,080,788

3,077

$1,976

$23,145,512

2

6

The Intruder

$4,025,000

2,231

$1,804

$28,058,141

3

7

Long Shot

$3,400,000

2,110

$1,611

$25,723,046

3

8

The Sun Is Also a Star

$2,600,000

2,073

$1,254

$2,600,000

1

9

Poms

$2,090,000

2,750

$760

$10,010,192

2

10

Uglydolls

$1,600,000

2,030

$788

$17,243,668

3
Meanwhile in its fourth weekend in theaters, Avengers: Endgame dropped 54% as it earned $29.4 million to bring its domestic total to $760 million, which makes it the #2 box office film of all time here in North America, passing Avatar's $760 million (and not adjusting for inflation). Endgame will likely finish its run well over $800 million (and past the inflation-adjusted total of Avatar), but won't catch Star Wars: The Force Awakens ($937 million).

Overseas Endgame has now earned $2.615 billion worldwide and trails Avatar's world record by $173 million. My guess is that Endgame will come close, but won't quite be able to top Avatar's global record.

Third place belonged to Warner Bros.' Detective Pikachu, which dropped 54.4% as it earned $24.8 million to bring its 10-day total to $94 million. This $150 million production will likely become the highest-grossing video game-based film in the domestic market, passing Tomb Raider's $131 million record, but in spite of the fact that the film has now made $287.4 million, it now appears unlikely that it will be able to pass Warcraft's $433 million global record.

Universal's "dog" movie, A Dog's Journey opened below expectations, earning $8 million, well behind the $17 million debut of A Dog's Purpose in 2017. There has been a spate of "dog movies" over the past few years—they are inexpensive to make, and have a built-in audience with interest that extends into the post-theatrical market—but every genre has its saturation point.

The bottom of the top ten this week includes a trio of comedies (Hustle, Long Shot, and Poms) that increasingly look like disappointments, as well as a new YA teen romance, The Sun Is Also a Star, which bombed with just $2.6 million from over 2,000 theaters. As might be expected females made up 75% of the crowd, which skewed younger with 31% under 18.

The one success story in the bottom five is The Intruder, which dropped just 44% in its third weekend. The $8 million production has already earned $28 million here in North America.

Be sure to check back here next week to see if John Wick 3 will stave off a challenge from a trio of new wide releases led by Disney's live-action hybrid Aladdin, James Gunn's "Superman" horror film Brightburn, and Olivia Wilde's directorial debut, the comedy Booksmart.