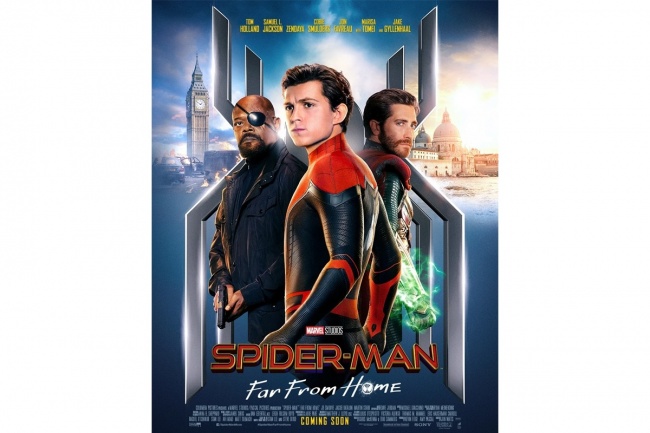 After Fox's
X-Men
sequel,
Dark Phoenix
bombed and a
Men in Black
sequel disappointed, some might have worried that the superhero/comic book genre might have lost some of its luster, but
Spider-Man: Far From Home
, the second
Spider-Man
film made under the auspices of Marvel Studios and set in the Marvel Cinematic Universe, forged a strong $185 million dollar six-day bow, driving its worldwide total to $580 million.
Even
Far From Home's
$93.6 million 3-day weekend total wasn't enough to push the weekend ahead of the same frame in 2018 when another MCU movie,
Ant-Man and the Wasp
debuted with $78.5 million. At least Spidey helped the weekend to a virtual tie with 2018 after four straight weekends in which the box office finished far behind 2018.
Far From Home
did set some records, including the best Tuesday opening ever, and it was in raw terms the second best Fourth of July week opening ever (not adjusting for inflation, when higher ticket prices are taken into account,
Far From Home
slips to sixth, which is still a very respectable outcome). The big takeaway may be that "franchise fatigue" has yet to reach the MCU. Certainly no superhero has had more exposure than Spider-Man. After the successful Sam Raimi
Spider-Man Trilogy
, Sony immediately rebooted the franchise as the
Amazing Spider-Man
, which only lasted for two installments, before the studio wisely entered into an agreement with Marvel Studios, resulting in the successful rebooting of the franchise within the confines of the MCU with
Spider-Man: Homecoming
, which was followed by Sony's successful Spidey spin-off
Venom
, and the Oscar-winning animated
Spider-Man: Into the Spider-Verse.
The question is what kind of "legs"
Far From Home
will have? With a 91% positive rating from the critics and an "A" CinemaScore from opening weekend audiences,
Far From Home
might have a shot at $400 million here in North America. Opening weekend audiences for
Far From Home
skewed male (57%) with 31% of the crowd in the coveted 18-34 age bracket. With a worldwide gross already approaching $600 million ($167 million of that from China),
Far From Home
has a decent shot at topping $1 billion worldwide. A $1.1 billion performance from
Far From Home
would mean that the three 2019 Marvel Studios releases will have earned $5 billion—a high water mark for Marvel—and for its protagonists, those relatable "superheroes with hang-ups," who are the real stars of the MCU, which doesn't depend on villains for its colorful characters.
Weekend Box Office (Studio Estimates): July 5-7 2019

Film

Weekend Gross

Screens

Avg./Screen

Total Gross

Wk#

1

Spider-Man: Far from Home

$93,600,000

4,634

$20,199

$185,055,628

1

2

Toy Story 4

$34,300,000

4,540

$7,555

$306,557,544

3

3

Yesterday

$10,750,000

2,614

$4,112

$36,882,740

2

4

Annabelle Comes Home

$9,750,000

3,613

$2,699

$50,157,397

2

5

Aladdin

$7,600,000

2,758

$2,756

$320,789,616

7

6

Midsommar

$6,561,798

2,707

$2,424

$10,902,112

1

7

The Secret Life of Pets 2

$4,760,000

2,846

$1,673

$140,743,335

5

8

Men in Black International

$3,635,000

2,716

$1,338

$71,989,949

4

9

Avengers: Endgame

$3,100,000

1,985

$1,562

$847,862,833

11

10

Rocketman

$2,775,000

1,409

$1,969

$89,169,715

6
Second place went to another Disney release, Pixar's Toy Story 4, which dropped just 42.5% in its third weekend as it added $34.3 million to bring its domestic total to $306.6 million and its worldwide total to $649 million. The jury is still out on how big a hit Toy Story 4 will be, but so far it is demonstrating great "legs."

Third place went to Danny Boyle's high concept "musical" Yesterday, which dropped just 36.8% as it earned $10.8 million to bring its North American total to $36.9 million. This $26 million "sleeper" is already a modest counter-programming hit in the midst of the summer blockbuster season.

Warner Bros. horror sequel/prequel Annabelle Comes Home may not end up as one of the biggest films in the Conjuring franchise, but it is still performing well, dropping 51.9% in its second weekend as it earned $9.8 million to bring its domestic total to $50.2 million.

Fifth place went to another "leggy" Disney hit, Guy Ritchie's Aladdin, which dropped 24.9% in its seventh weekend as it earned $7.6 million to bring its domestic total to $320.8 million, and its worldwide total to $921.7 million.

The highbrow horror film Midsommar, earned $6.56 million over the 3-day weekend, and almost $11 million for its five-day opening. Director Ari (Hereditary) Aster's film earned a "C+" CinemaScore from opening weekend audiences, which is not a bad grade for a horror film, so this film from indie-friendly A-24 might have a chance.

Disney's Avengers: Endgame earned $3.1 million, driving its domestic total to a whopping $847.9 million, which means that it has sold more tickets than Return of the Jedi. While Endgame remains $15 million behind Avatar's record worldwide total (not adjusting for inflation), it is now either the 16th or the 13th best, inflation-adjusted performer all time in the domestic market (depending on whether you count reissue runs), which is a stellar performance in our entertainment-sated era.

Be sure to check back here next week to see how Far From Home fares in its sophomore session, as it faces competition from two new films, Paramount's crocodile thriller Crawl, and Fox's R-rated comedy Stuber.