Confessions of a Comic Book Guy is a weekly column by Steve Bennett of Super-Fly Comics and Games in Yellow Springs, Ohio. This week, Bennett takes us through the history of astronauts in comics, up to the present day.

Among other things, last week I wrote how Russian Culture Minister Vladimir Medinsky had recently declared that adult comic book readers were "morons" (see "Confession Of A Comic Book Guy -- My Heroes Have Always Been Astronauts"). Well, according to a piece in the UK's The Guardian Russian Comics Get Sales Boost after Culture Minister Calls Them 'Pathetic'. In an interview, Dmitry Yakovlev "head of one of Russia's leading indie comic producers, the St Petersburg-based Bumkniga" was quoted as saying "Medinsky's comment was pure stupidity, therefore supporting the comic industry." Adding; "Sales increased."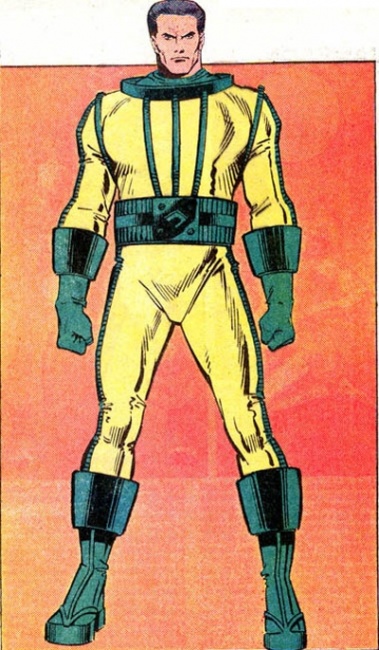 I also wrote about astronauts. A surprising number of 60s Marvel characters were astronauts, like J. Jonah Jameson's son John (who as Man-Wolf is currently appearing in the
Black Panther and the Agents of Wakanda
series). And both Vance Astro and Starlord Peter Quill of the
Guardians of the Galaxy
. At least Quill was an astronaut back when he first appeared in
Marvel Preview
#4 in 1976. I'm assuming that eventually his origin will get retconned so it jibes closer to the Chris Pratt version, but for the moment it's still in continuity.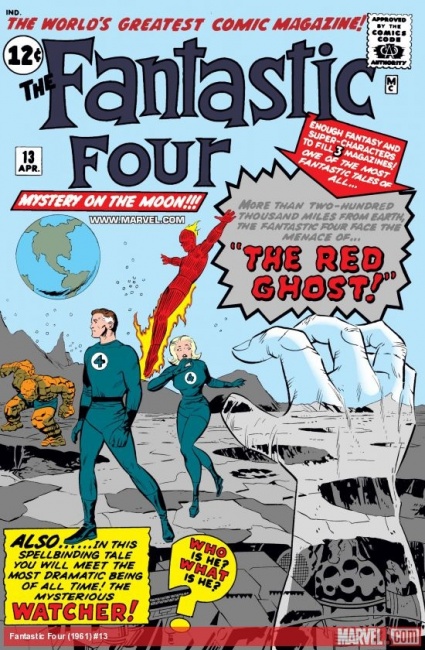 And of course, the Fantastic Four were astronauts, albeit unsanctioned ones, and they even landed on the moon in 1963 in
Fantastic Four
Vol. 1 #13, which featured the first appearance of one of my favorite characters, The Watcher. Apparently, they kept this to themselves because when Apollo 11 landed on the moon in 1969 it was still considered kind of a big thing. In fact, the FF ensured the success of the mission by defeating a Kree Sentry that sought to sabotage the Apollo space shuttle in
Fantastic Four
Vol.1 #98.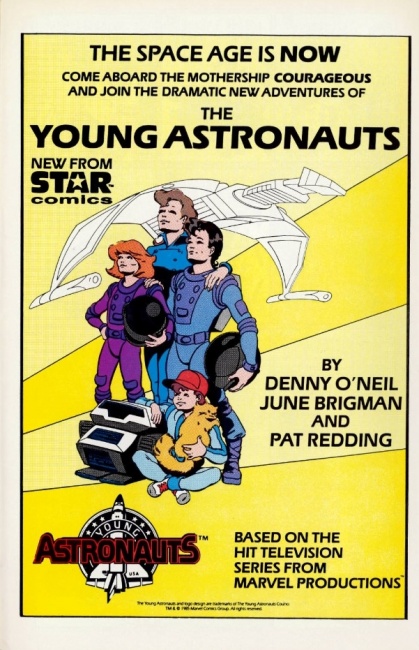 But the subject I really want to write about this week is something I've long thought about: how the announced
Young Astronauts
animated series and comic books were both canceled before they could appear. Established in 1984 by the Reagan Administration, the non-profit Young Astronaut Council was a presidential initiative intended to promote interest in STEM (Science, Technology, Engineering, and Math) in kids. But the Young Astronaut Management Corporation, a for-profit arm of the YAC, licensed
Young Astronaut
merchandise such as Happy Meals, a young adult novel series and shuttle model kits. Then they struck a deal with Marvel for the licensing rights to create
Young Astronauts
, a 13-episode animated series to be made by Japan's Toei Animation studio for CBS, as well as a 6-issue comic book series based on the property for Star Comics, their kid's comics imprint.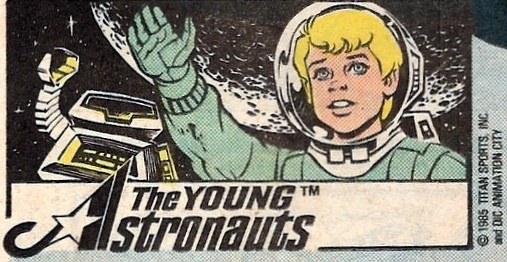 Young Astronauts
concerned the Hamptons, a family of 21st-century astronauts that included parents Kelly and Jason, who co-piloted the spaceship Courageous, and their children, Wendy, Rick, and Mikey. Naturally, there was also a robot sidekick, Retro, as well as the family pet, Rascal the cat. It was listed as one of the new CBS Saturday Morning shows in comic book ads promoting the network's 1985 lineup. But in September
Young Astronauts
wasn't on the schedule.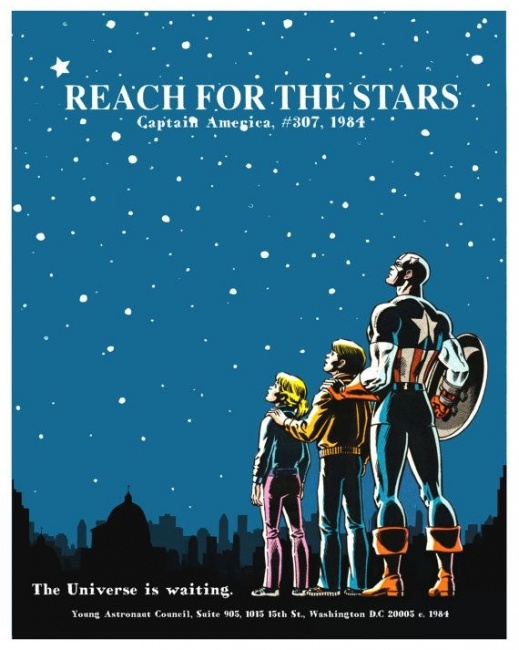 Supposedly production was delayed because of a conflict between YAC and CBS; the YAC wanted a scientifically accurate show while CBS wanted more of a science fiction adventure series. Finally, they split the difference and each space adventure was to end with an educational live-action segment titled "Astro Minute" where actual astronauts would give kids a short science lesson. Meanwhile, Marvel ran full-page ads in their comics with Captain America promoting the YAC, as well as ads for the upcoming comic which listed the creative team, Denny O'Neil, June Brigman, and Pat Redding, and the fact that it was "Based On The Hit Television Series From Marvel Productions."
Young Astronauts
then was set to premiere in February 1986, but on January 20, 73 seconds after launching, the fuel tank on the space shuttle Challenger tore apart. The liquid oxygen and hydrogen formed a huge fireball and the Challenger itself was destroyed, claiming the lives of all seven astronauts on board, Including Christa McAuliffe, a high school social studies teacher from Concord, New Hampshire.
In the wake of the tragedy, CBS pulled the show and Marvel canceled the comic. At least one issue of the comic probably exists somewhere; in
Marvel Age
#37, the company's house organ promoted the upcoming comic with a two-page article that featured finished artwork by June Brigman. As for the
Young Astronauts
animated series, reports vary on just how much of the series had been completed when it was canceled by CBS, but to date, footage from it has yet to surface.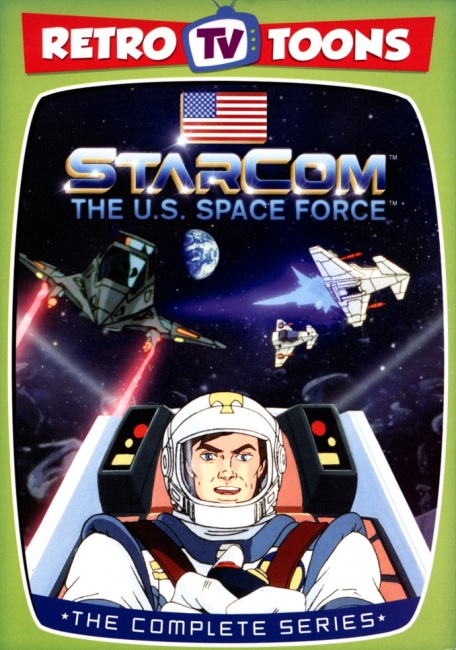 The YAC also helped develop the syndicated animated series
STARCOM: The US Space Force
, though it was inspired by a toyline made by Coleco. Though both the shows and the toys based on it featured the YAC logos,
STARCOM
was a pretty standard syndicated action/adventure cartoon. The premise involved an American astronaut brigade that foiled the repeated invasion plans of the evil Shadow Force. The series only lasted one season, and according to Wikipedia, "The toy line was popular in Europe and Asia, but was unsuccessful in the North American domestic market." And if this sounds something like President Trump's Space Force, you weren't the only one that noticed;
Trump's 'Space Force' Speech Syncs Up Perfectly with 80s Cartoon
.
According to the YAC's Facebook page, "After 9/11 the Young Astronaut Council went on hiatus and eventually government priorities resulted in the closing of the Young Astronaut Program." And the "Young Astronaut Council has been re-opened by aerospace author Nelson L. Olivo and is set to re-launch its Young Astronaut Program" in 2019. Here's hoping we'll finally see
Young Astronauts
appear in one form or another because while kids still want to be astronauts (just Google "kid astronauts" and see for yourself), it's important that they know being an astronaut needn't be just a fantasy.
The opinions expressed in this column are solely those of the writer, and do not necessarily reflect the views of the editorial staff of ICv2.com.