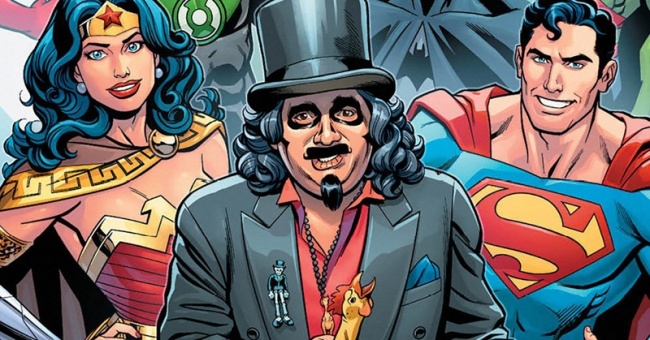 Confessions of a Comic Book Guy is a weekly column by Steve Bennett of Super-Fly Comics and Games in Yellow Springs, Ohio. This week, Bennett looks at DC's new inserts featuring Chicago horror-host Svengoolie and reviews the history of inserts in comics.
I have to admit that I was surprised when I saw "DC Partners With MeTV for 'Svengoolie Meets the DC Universe". Horror movie hosts usually don't get their own comics; the only previous examples I can think of are Mystery Science Theater 3000 and Elvira, Mistress of the Dark. I have to confess I didn't realize his show was that well known, so, for those unfamiliar with Svengoolie (Rich Koz), or MeTV for that matter, he is the host of a long-running Chicago-based horror movie show that since 2011 has aired Saturday nights on MeTV (Memorable Entertainment Television) a broadcast network specializing in showing classic TV shows.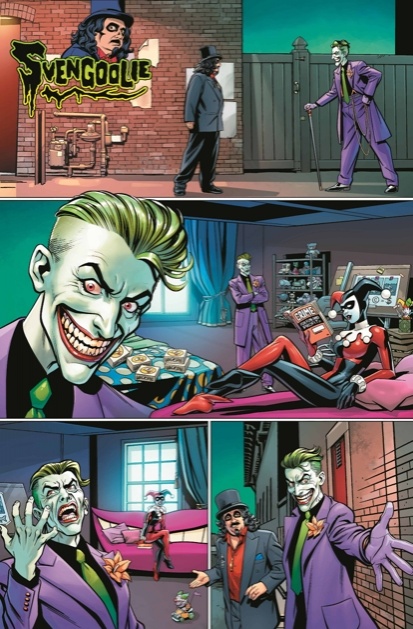 According to the Svengoolie
website
, various DC Comics published between October 31 and November 20 will have custom inserts with the story
Svengoolie Meets The DC Universe.
Each two-page installment, written by Dan Didio with an assistance from Rich Koz and drawn by Chris Jones, will feature the horror host encountering both DC superheroes and the Joker. Something else that makes this unusual is it marks the return of the DC insert. Those with long memories will recall how back in the 80's DC would routinely include, at no extra charge ("A Special Free Gift To You From The New DC!") an entire 16-page comic (with 14 pages of story) to promote/preview a new or revitalized series.
They included The New Teen Titans, Dial 'H' for Hero, Night Force, All-Star Squadron, Arak, Son of Thunder (a historical adventure series by Roy Thomas Ernie Colón and Tony DeZuniga featuring a Native American character, something DC really should really think about reviving), Wonder Woman, Amethyst, Princess of Gemworld, Batman and the Outsiders, and Captain Carrot and His Amazing Zoo Crew! There were also inserts for licensed properties that later had their own DC Comics, most famously Masters of the Universe but there was also Atari Force and M.A.S.K. One of the these that didn't spawn a subsequent series was Flash Force 2000, which in spite of the name, had nothing to do with The Flash but was based on Matchbox toy car line that had a post-apocalyptic back-story where the good Flash Fighters fought the evil Rampagers.
One of the nice things about Svengoolie Meets The DC Universe is the reason for it to exist exclusively seems to be that Didio is a big Svengoolie fan and Koz is "a lifelong fan of DC superheroes" and was "into comics as a kid". I suppose I should admit I'm a Svengoolie fan myself, and along with the funny stuff, his shows most often have informative segments about movies and the actors in them. It's clear Koz knows his movie lore; I've learned quite a bit from watching him, and I consider myself to be something of a know-it-all on the subject.
And while it's always easy to disparage and make fun of these kinds of custom comics, I'm on record as being unironically a fan of comics like 2012's Craftsman Bolt-On System Saves the Justice League (see Confessions of a Comic Book Guy--The Reason They Invented Comics) and 2015's KFC comic The Colonel of Two Worlds (see "Confessions of a Comic Book Guy -- Who Would Have Thought It?"). If for no other reason than they feature well done, done-in-one stories featuring clean, clear storytelling as well a beautiful art that shows the DC characters at their best. And from the lovely Chris Jones pages posted online, Svengoolie Meets The DC Universe won't be an exception.
Last week I mentioned the animated series
Final Space
(see "
Confessions of a Comic Book Fan -- First Beagle In Space
"), partially because the lead character Gary Goodspeed is referred to as an astronaut. But it's also worthy of mention because while it's also a science fiction comedy on
Adult Swim
, it doesn't get nearly the attention and adoration
Rick & Morty
does. Like
Rick & Morty, Final Space is
ostensibly a comedy that's also equal parts character-driven drama and space opera that hinges on wild ideas and important questions, and is frequently both sad and quite dark. It also deals with loneliness and hopelessness, but unlike
Rick & Morty
, it's ultimately hopeful, believing love and friendship are valuable, even in the face of a bleak existence and insurmountable odds.
The premise of Season 1 is basically Red Dwarf meets Dark Star (the John Carpenter movie from 1974). Gary is the sole prisoner aboard the prison barge Galaxy One, serving a five-year sentence who encounters an adorable spheroid alien he names Mooncake which is also a much-coveted planet-killing weapon. Like Rick, Gary isn't all that likable, at least initially. When we first meet him he's a goofy, entitled screeching immature man-child who has gone nearly insane from isolation; in short, he is, as one reviewer put it, "half-bogus". The other half, however, is genuine. He's essentially a warm-hearted, good-natured man who's never had a chance or been given a choice in life who's given up on himself. But when he's given something and someone to fight for, he does. He also fails, repeatedly and spectacularly, flailing all the way. Gary is no hero, but he steps up, and once he does, he never backs down.
I haven't said much about the plot due to it being a serialized story with multiple cliffhangers and shock endings, some of which I didn't see coming that left me slightly stunned. In Season 2, it evolves into more of a Guardians of the Galaxy style series where Gary, surprisingly, steps up again, becoming something of a father figure to a ship of misfits. I know it sounds odd to say something like this is in anyway "authentic" but as the kids say, Final Space is full of "The Feels", and all of those feelings feel genuine. I wish there was a Final Space comic book and a lot more merchandise, but mostly, I wish when the hinted at Season 3 of the show is officially confirmed the announcement generates the kind of headlines Rick & Morty's upcoming new season has.
The opinions expressed in this column are solely those of the writer, and do not necessarily reflect the views of the editorial staff of ICv2.com.