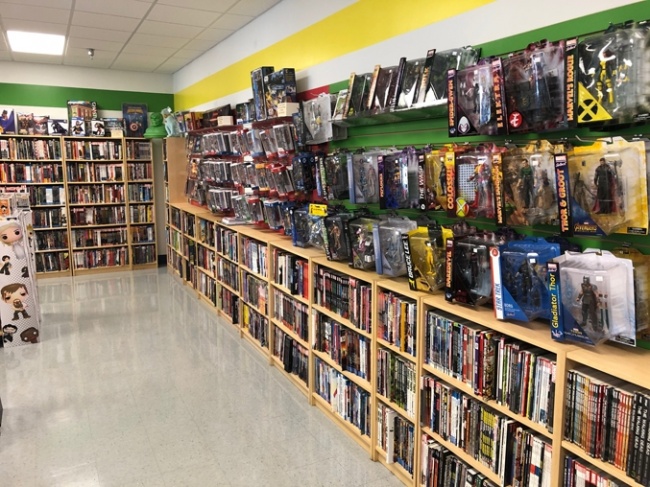 In Business 3x3, a business retailer or executive will share their experience with three things they've done right, three things they've done wrong, and what else they've learned along the way.
At the end of the day, Bret Parks just wanted to go to the comic store after school.
Parks is a North Carolina native, and was a college professor who traveled abroad to realize his dream.
"I was a university professor in South Korea," he says. "I went to Korea specifically to save up money to open my comic book store."
As Parks and his wife planned their trip back to the USA, Parks said she just assumed he would keep up with his teaching gig. He told her he wanted to fulfill his childhood dream by opening a comic book store.
"Like any reasonable partner, she naturally said, 'That sounds like a horrible idea,'" Parks recalls. "But she said she'd give me a year or two to get it out of my system, and then get a college job here in the States."
That was 14 years ago, and Ssalefish Comics (more on that name later) is still going strong with two North Carolina stores, soon to be three.
"I have not gone back into a classroom other than to take one of my two children to school," Parks proudly says today.
But school is always in session, as Parks relays what he's learned, good and bad...
THE GOOD
DON'T HAVE A BUDGET IN MIND
It seems counter-intuitive, but Parks likes walking the tightrope without much of a net.
"I believe one of the top things I do right is
not
having a budget," he says. "I just order what I think I can sell. If that's $5000 for the month, $10,000, $20,000, whatever, I just order what I think I can sell."
Parks likes giving himself the freedom to spend.
"I'm never going to cut myself off," he says. "I've seen a lot of shops talk about monthly order budgets, and I don't understand that at all. I think that's self‑confining. I'm always buying as much or as little as I believe I can sell."
Parks admits it can get a tad scary.
"It can be, especially with Sideshow Collectibles or other high end items, or with back issue purchasing," he says. "But I've always found that it's better (or it's better for me) to not cut it off, but to be real. I've done that for 14 years now, and that's going to be a hard thing to change."
Parks says it would take a lot for him to change.
"If I ever did have a lot of strikes in a row, it would be very hurtful to the business and risky," he says. "But for now, it's the way I've chosen to do things."
EMBRACE YOUR PEERS
Parks started his business playing his cards close to the vest, but now likes to show open.
"When I first opened the store, I didn't want to talk to other comic shop owners," he says. "I didn't want to share what I thought were secrets. I think that I suffered a little bit in the beginning and didn't learn some basic things about running a shop. But now I know talking to peers is a good thing."
Parks counts Alan Gill from Ultimate Comics, Shelton Drum from Heroes Aren't Hard to Find, and
Marc Nathan
from Baltimore Comic‑Con as major sources of knowledge and inspiration.
"These guys are now my friends," he says. "We don't worry about competing for the same dollar. We've opened up to each other."
Parks sees the communication as a two-way street.
"I was a little conceited in the beginning, I guess, to think that I had something so valuable to say or think that I shouldn't share it with another shop owner," he says. "But there are so many leaders in this community, it's a good idea to open up a little bit."
SWIM UPSTREAM
Parks decided to grow his business when all indicators were showing him the opposite was the way to go.
"When shops were reporting negative things and lots of shops were closing, that's when I decided to open a second [Greensboro, NC] store. Even my original store in Winston‑Salem, four years ago, I tripled the size of it," he says.
The concept is "contrary investing," and it paid off for Parks.
"I really believed in what I was doing, so I thought if people think retail is dying, then retail space should be cheaper and deals are there to be made," he says. "And I did actually get a really sweet deal on the store expansion."
Parks sees an improving economy at his stores, and is positioned to take advantage yet again.
"We actually received our lease today for our third store," he says.
THE BAD
DON'T OPEN IN JANUARY
That original Winston‑Salem store opened in January 14 years ago because Parks—wait for it—just thought it would be easier from a bookkeeping perspective.
"Yeah, I didn't know any better," he laughs today. "I had no business background, and suddenly here I am in December in a busy shopping center with traffic all around me, and I'm behind those brown papered, blocked‑up windows, building my store, while everyone else in the world's making money."
Parks then had to weather the retail-withering months of January and February. But he learned his lesson.
"That was a huge mistake," he says. "But store number two was opened around Free Comic Book Day, so this mistake has been corrected."
DON'T OVER-DISCOUNT
That lack of business background led to another rookie mistake in Parks' early days.
"I decided to offer the highest discount in town on subscriptions, because I thought that was how to grow the business," he says. "Looking back, I realize that was just throwing money away. I thought it was a price war, and it's really not. It's a customer service war."
Parks now realizes he threw away too much of his profit.
"And in doing all the behind‑the‑scenes work to maintain the subscriptions, it was just giving away too much," he says. "My second big mistake."
DON'T GET CUTESY WITH THE STORE NAME
Yeah. "Ssalefish Comics." It started as a joke, and the joke hasn't ended yet.
Parks got his feet wet selling via eBay and Amazon before opening his store, and one day when a friend playfully ribbed him by calling him "selfish," he stumbled over the word and it came out with a stutter.
"To make fun of him, I tried to change my eBay ID to 'Selfish,' but that name was taken. Then I thought, 'Oh, I'll make it S‑A‑L‑E-fish, because we're talking about selling things."
That eBay handle…was also taken. Parks' bright idea, because his friend has stuttered when he called him selfish, was to add an extra s—Ssalefish.
"Then when it came time to finally open the real store, I thought, 'Oh, I've had this name since 1999 with 10,000 or 15,000 transactions. This will be the store name."
Parks now admits, "It looks bad, it sounds bad, and when you get on the phone with the power company, you have to say it and spell it, and they still get confused."
But today, Parks is toenailed in. He's accepted it and moved on. There is an upside, however.
"When people meet me at annual events, they always remember me," he says. "Tough to forget that name."
AND WHAT ELSE?
"What I mean by a customer service war is we set ourselves apart. We have unique items in the store. We don't just buy things from the front of the Diamond catalog. There are a lot of retailers that don't even look past the premier publishers. We scour through every product, and not just with Diamond, but with all our suppliers.
"I think we've built a customer experience of having exactly what the customer wants, even if they didn't know that they wanted it.
"That's the thing that happens a lot at both my stores. We hear shoppers say, 'I've never seen that before.' Other than the actual sale, that's the highest form of praise that I get in the store: Seeing the thought that I put into the products really connect with the customers."
"I try to make my store visually appealing to people who do not really care about this stuff. Comic guys and gals are just happy the comics are there. But if I can make an impact on the aunts and uncles, if they say, 'Hey, this is really cool,' then I know I'm really doing something."
"I've embraced the name, but the other night, when I thought about these things and what to say to you, and I read through some past articles, I really thought, 'If I'm supposed to face facts here and really share this, then that is definitely a mistake.' Oh, well."
"This might be the first time I've mentioned the lease for the third store. Okay, officially, I told my wife, and the guys at the store over lunch. But we're opening that third store in Concord, North Carolina. It's a happy day."
Click Gallery below for store photos!