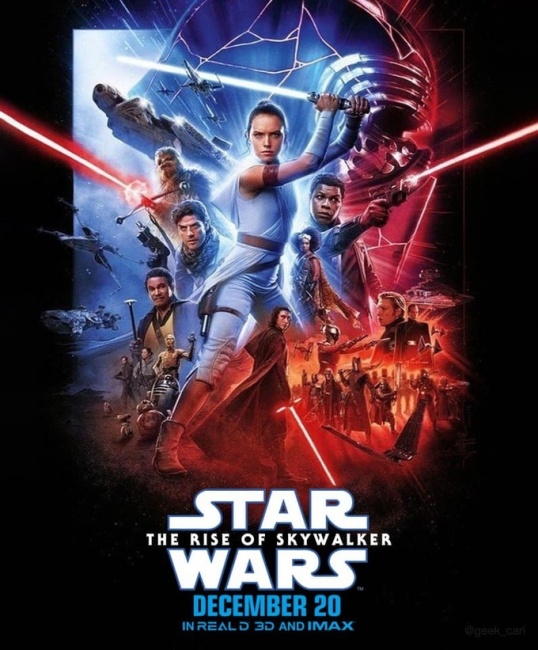 Despite slipping 59.7%,
Star Wars: Episode IX—The Rise of Skywalker
easily took the weekend box office crown with an estimated $72 million, while Greta Gerwig's adaptation of
Little Women
was a surprise third place finisher. The total take of the top ten films was 10.5% higher than during the last weekend of 2018 when
Aquaman
dominated for the second week in a row with $52.1 million. As expected 2019's holiday season, buoyed by the release of a
Star Wars
film (and the
Frozen
and J
umanji
sequels) ate into the deficit with 2018's record box office take. Current estimates place the decline in box office dollars from 2018 to 2019 in the 4-5% range, which represents a considerable improvement from where things stood in October.
With its huge (perhaps as high as$300 million) production cost, and mediocre reviews, there was doubt in some quarters as to whether or not
The Rise of Skywalker
would be the first of the major Disney Star Wars releases that failed to earn a billion dollars. Though
The Rise of Skywalker's
opening was 20% less than that of
The Last Jedi
, after ten days
Episode IX
has narrowed the gap considerably with
Rise of Skywalker's
$361 million just a bit below
The Last Jedi's
$368 million after ten days. Now
The Rise of Skywalker
won't match The Last Jedi's $620 million domestic showing, but it should still finish north of $500 million here in North America and over a billion worldwide.
The Rise of Skywalker
remained the top overseas film, earning $94.3 million to bring its foreign grosses to $363 million and its global total to $724.8 million.
The Rise of Skywalker
will end up with over a billion dollars worldwide, and it has a good chance to become the second highest-grossing film in the domestic market for 2019, but it also seems clear that 2019 saw the passing of the torch representing the top movie franchise from Disney's
Star Wars
division to Disney's Marvel Studios unit, which produced the year's top film,
Avengers: Endgame
($858.4 million here in North America).
The adventure comedy
Jumanji: The Next Level
continues to play well, both here and abroad
. The Next Level
posted a 33% increase for the weekend as it earned $35.3 million to drive its domestic total to more than $175 million after three weekends of release. Overseas the
Jumanji
sequel earned $61.6 million to drive its foreign total to $296 million and its worldwide haul to $472 million.
Surprisingly third place went to Greta Gerwig's adaptation of Louisa May Alcott's
Little Women
, which opened on Christmas and earned $29 million for the five-day opening and $16.65 million over the 3-day weekend. Opening day audiences, which skewed heavily female (70%) and older with 71% over 25, gave the film a solid "A-" CinemaScore, which indicates considerable promise, especially if the film receives the kind of recognition from the Oscars that it deserves (and did not get from The Golden Globes).
Weekend Box Office (Studio Estimates): December 27-29, 2019

Film

Weekend Gross

Screens

Avg./Screen

Total Gross

Wk#

1

Star Wars: Episode IX - The Rise of Skywalker

$72,000,000

4,406

$16,341

$361,796,816

2

2

Jumanji: The Next Level

$35,300,000

4,227

$8,351

$175,456,805

3

3

Little Women

$16,525,000

3,308

$4,995

$29,000,000

1

4

Frozen II

$16,500,000

3,265

$5,053

$421,290,889

6

5

Spies in Disguise

$13,200,000

3,502

$3,769

$22,087,856

1

6

Knives Out

$9,725,000

2,022

$4,809

$110,237,095

5

7

Uncut Gems

$9,552,812

2,348

$4,068

$20,000,002

3

8

Cats

$4,830,000

3,380

$1,428

$17,820,175

2

9

Bombshell

$4,700,000

1,480

$3,175

$15,631,427

3

10

Richard Jewell

$3,010,000

2,502

$1,203

$16,089,327

3
Close behind is Disney's mega-hit animated musical Frozen II, which jumped 27.1% for the weekend as it added $16.5 million to bring its domestic total to 421.3 million. It has done almost twice as well overseas (nearly $800 million) for a massive $1.217 billion total, as it passed Minions to become the third highest grossing animated film of all time (not adjusted for inflation).

Fifth place went the Fox-developed (and now Disney-owned) animated film Spies in Disguise, which opened on Christmas and took it $22 million over the five days, and $13.5 million for the 3-day weekend. Opening weekend audiences, which skewed slightly female (54%) and younger (only 40% over 25) gave Spies in Disguise a solid "A-" CinemaScore. It should be interesting to see it Spies in Disguise can keep its momentum as Frozen II's icy grip on the marketplace gradually weakens.

Rian Johnson's stylish murder mystery Knives Out saw its grosses jump 49.5% as it earned $9.75 million to bring its domestic total to $110.2 million as it demonstrates that there still is place at the Cineplex for an engaging old school studio genre picture—especially if it is crafted to reflect the spirit and problems of the times.

The Safdie brothers' Uncut Gems, which stars Adam Sandler, also surprised, earning $18.6 million over the five days (it went wide on Christmas), and $9.6 million over the three-day weekend. Prospects for Uncut Gems are clouded however by the fact that audiences polled this week gave the film a lousy "C+" CinemaScore (it had received an "A-" score in limited release where it was seen by more hardcore indie fans—the difference in scores for the wide release apparently reflects that fact that Sandler's considerable fan base didn't enjoy seeing him in a heavy downbeat drama).

The last three films in the top ten have all defined themselves as "bombs." Tom Hooper's adaptation of the musical Cats, cost over $100 million to produce and has earned just over $17 million in ten days of release. Despite good reviews and award nominations the #Me Too sexual harassment at Fox News expose Bombshell has failed to gain much traction, though to be fair it has never been in more than 1,480 theaters, which is about half the normal wide release. Finally Clint Eastwood's Richard Jewell, which has engendered a bit of controversy on its own, has earned just over $16 million after three weekends of wide release.

A couple of films that will go wide on January 10 have done very well in limited release. Sam Mendes' World War I film 1917, which has received 3 major Golden Globe nominations and eight Critics' Choice nods, opened in just 11 theaters on Christmas and has already earned $1 million along with an "A" CinemaScore , while Warner Bros. opened the civil rights drama Just Mercy in four theaters, where it has done extremely well and earned an "A+" CinemaScore.

Be sure to check back here next week to see what happened over the final week of the holiday break. There will be only one new wide release—an R-rated remake of the horror film The Grudge—but there will be plenty of jockeying for position by a strong cast of holdovers plus final figures for the box office during 2019.