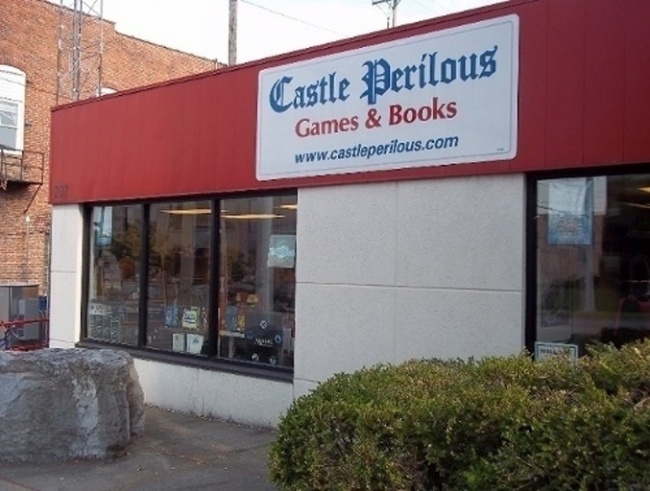 Rolling for Initiative is a weekly column by Scott Thorne, PhD, owner of Castle Perilous Games & Books in Carbondale, Illinois and instructor in marketing at Southeast Missouri State University. This week, Thorne offers three more tactics publishers can employ to increase in-store retail sales.
Following up on last week's column (see "Rolling for Initiative -- Three Ways to Help Me Sell More of Your Games"), James Glasso of Recess Games sent me the following note regarding QR codes (reprinted with his permission):
"QR codes are great, however, if placed on product close to the barcode new barcode scanners are able to read multiple barcodes including QR codes at the same time which makes scanning items more difficult. If you haven't purchased a new scanner in a while you might not have realized this."
Speaking of which, here are three more ways that a publisher or manufacturer can help me sell more of your games:
Bag Stuffers. Create a one sheet, either a full-page or postcard-sized, telling the reader about why your game is the coolest thing since Baby Yoda (almost used "sliced bread", but that has been way overdone) and why they will have a blast playing it. Remember, you are competing for that customer's time, attention, and money, so if your game is amazing, please tell them about it! Remember, the customer doesn't care about how many cards the game has or who sculpted your admittedly awesome playing pieces, they care about how much fun they will have playing your game with their friends and family. So, create a good sell sheet telling them why they'll enjoy you game, and send a stack to stores with a request that we hand them out with a good reason why. If you want us to print it out and distribute it, we can do so, but less enthusiastically, since we now have to foot the bill for paper and ink. Speaking of which, please don't make your flyer a full-color page because really uses up ink! So again, you will need to give me a good reason to print out your game for me to actually print it out (i.e. early release, promo pieces to give away with purchase that the customer cannot get anywhere else etc).

Demo or Sale Scripts. Write up a script that stores can use to: (A) Quickly explain the basic concepts of the game, games similar to it and what makes it different from other games. (B) Explain in two to three minutes how to play the game. In most cases choice "A" is better than choice "B" because you want to sell the game and a game store's staff can best accomplish that task though telling the customer a story explaining why they would enjoy the game and ideally, visualize themselves playing. If you can get the customer to see themselves playing your game and enjoying it, you've just made a sale.

Promotional Items/Premiums. These are probably not likely to sell your game by themselves as customers will not buy a new game solely to get a promotional item. They can serve as nice add-ons, offering a customer a reason to make a purchase through a particular channel, whether it be brick-and-mortar or online or other, and I have seen offers wherein the manufacturer promotes the game and also promotes the premium item as an incentive to purchase through one type of retailer.
The best thing about these methods of selling your game is that you do not promote it on price. The publisher makes margin, and the other channel members make full markup as well.
The opinions expressed in this column are solely those of the writer, and do not necessarily reflect the views of the editorial staff of ICv2.com.