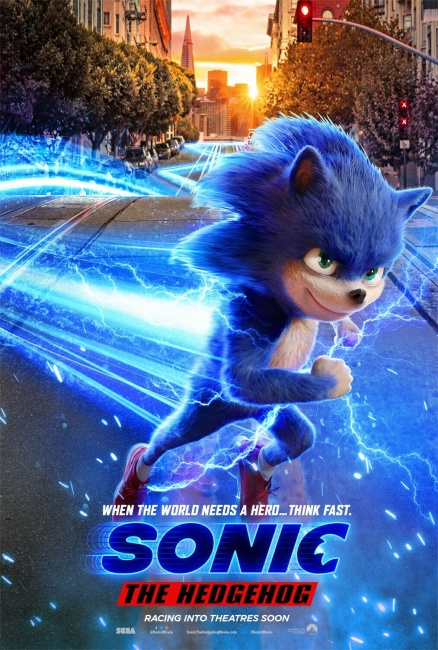 Paramount's animated
Sonic the Hedgehog
set a new record for videogame adaptations with a $57 million 3-day opening, which helped the top ten films earn 23% more than they did during the same frame a year ago when
Battle Angel Alita
topped the charts with $28.525 million.
Sonic the Hedgehog's
3-day total of $57 million tops the previous record for the debut of a videogame adaptation, which was set by
Detective Pikachu
, which opened with $54.3 million in 2019. If the projections for a $68 million 4-day total hold
, Sonic
will also have the fourth highest Presidents' Day weekend total (not adjusted for inflation). With moderate critical acclaim (63% positive on review aggregator Rotten Tomatoes) and a solid "A" CinemaScore, the kid-friendly
Sonic
appears to be well positioned for a nice run against its mostly R-rated competition at least until Pixar's
Onward
debuts on March 6. According to PostTrak 70% of the audience for
Sonic
was under 25—and 56% were male.
Readers of this column will recall numerous occasions in which a change in a film's release date indicates that the film is in trouble, and often portends box office disaster, but
Sonic the Hedgehog
is an exception to this "rule." Originally scheduled for release in November, the film was held up for 3 months in order to fix the character design, which fans who had seen the trailer were complaining about online. While it is impossible to know if the changes in design helped fuel
Sonic's
strong opening, it is hard to see how opening in November with heavy competition from
Frozen II
and other kid-targeting films would have worked as well as opening in February when there is a dearth of children's films and plenty of R-rated competition (
Bad Boys For Life, Birds of Prey
, etc.).
At first glance
Birds of Prey's
48.2% drop appears to be a solid hold for a superhero film. The problem is that
BoP
seriously underperformed in its opening—a small drop from a less-than-auspicious debut is a mixed blessing at best. An even bigger problem is that this holiday frame is a solid movie-going weekend and
Birds of Prey's
week-to-week decline is by far the biggest in the top ten. While
Birds of Prey's
budget was less than most superhero films (reportedly under $100 million), its performance so far remains disappointing, and it appears that the film will end up with under $100 million in domestic ticket revenue unless it really starts to develop some "legs" over the next few weekends.
Third place is currently being hotly contested by two new film: Blumhouse's horror movie take on the
Fantasy Island
TV series, which was produced for just $7 million, debuted with $12.4 million ($21.3 million worldwide), but with just a 9% positive rating on Rotten Tomatoes and a poor "C-" CinemaScore, this
Fantasy Island
does not appear to have much staying power: and Stella Meghie's romantic drama
The Photograph
, which earned an estimated $12.3 million, has better long term prospects thanks to its "B+" CinemaScore.
Dropping down to fifth place was 2020's first breakout hit, the R-rated action comedy
Bad Boys For Life
, which slipped just 5.9% as it earned $11.3 million to bring its domestic total to $181.4 million.
Bad Boys For Life
has now passed
John Wick 3
($174 million), and it should soon become the first film ever that debuted in January and went on to earn over $200 million at the domestic box office.
Sam Mendes' World War I film
1917
didn't win Best Picture, but It still got an Oscar bump as it declined just 12.4% as it added $8 million to bring its domestic total to $144.4 million. But Bong June Ho's
Parasite
, which did win "Best Picture" (and a host of other Oscars) got a major bump (+234%) as it earned $5.5 million to bring its domestic total to nearly $44 million, which makes it the fifth biggest foreign language release ever here in North America (not adjusting for inflation).
The Will Ferrell/Julia Louis Dreyfus comedy/drama,
Downhill,
a remake of a Swedish film, bombed, earning just 4.6 million from over 2,300 locations. When a star-laden film debuts at #10, its dark future is obvious to all.
Be sure to check back here next week to see what happens with the debut of two new wide releases, Fox/Disney's pricey Jack London adaptation
Call of the Wild
starring Harrison Ford and STX's "scary doll" horror sequel
Brahms: The Boy II,
which was previously slated for release in July and then again in December of 2019.