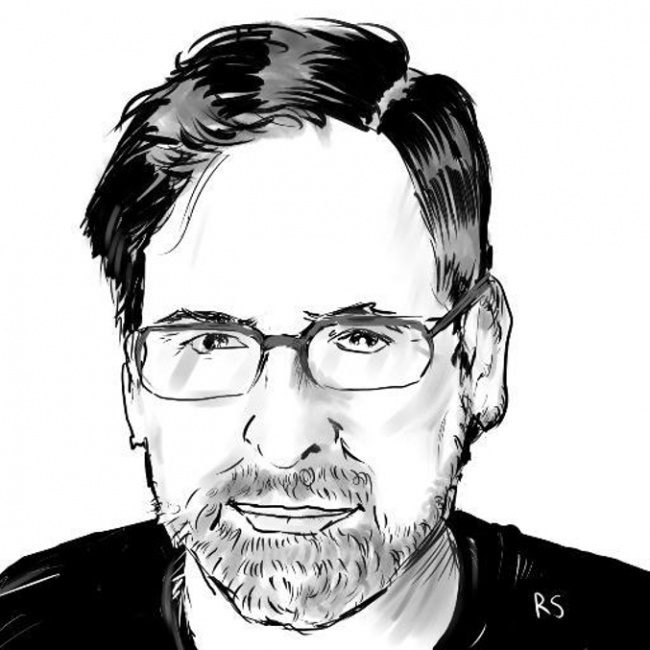 Despite the absence of real-world Comic-Con this year (see "
There's a Comic-Con Shaped Hole in the Calendar This Month
"), the organizers have put together a pretty impressive lineup of online programs as
Comic-Con @Home
. Most if not all of the panels are prerecorded, which means we miss out on the Q&A, for better or worse, as well as the in-room dynamics and after-panel networking that are inevitable casualties of the pandemic. However, the online panels are all free, easily accessible from the comforts of home, and available on demand once they debut, which means no painful tradeoffs between competing events.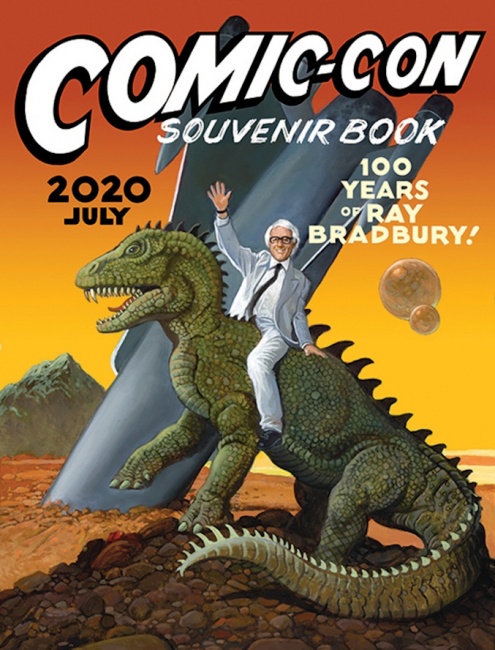 Because a bunch of the bigger media players have opted out of the Comic-Con @Home format, much of what remains on the programming list are discussions with industry professionals, academics, historians and fans. Many look to be quite interesting and worthwhile. I participated in three panels this year, all of which were well-organized and full of great information.
So, as not-Comic-Con week is now upon us, here is my (probably incomplete) annual list of panels of interest to business folks, creative professionals and aspiring professionals. YouTube links become active at the time the panel drops. Educators, lots of your best panels are on Wednesday afternoon/evening.
THURSDAY:
10:00 AM
Building a Geek Brand: Surviving a Pandemic
. Might as well dispense with the elephant in the room on the first day. Tony B Kim (
Hero Within
) hosts this spirited discussion of how to keep your geek brand alive and kicking (and supportive of Black Lives Matter) during our crisis. Panelists Linda Le (VampyBitMe Cosplay), Rachel Litfin (author), and Victor Dandridge (comic book creator).
YouTube:
https://youtu.be/NJGm83h_K4w
10:00 AM
How to Get News Coverage
. Annual panel hosted by Comics journalist Rik Offenberger (First Comics News, Archie Comics) on how to get attention for indie and crowdfunded projects. Panelists Martin Boruta (The Hey Kids Comics Radio Show, First Comics News), Peter Breau (Second Sight Publishing), Ed Catto (
Captain Action
, Agendae), Holly Golightly (Broadsword Comics), Michael Kingston (Headlocked Comics), Rob Salkowitz (
Forbes
, ICv2), and JC Vaughn (Gemstone Publishing, The Scoop).
YouTube:
https://youtu.be/dbJpzloS0wc
1:00 PM
The Future of Entertainment
.
Learn how digital technologies are reshaping the entertainment, esports and education landscape. Panelists include Ted Schilowitz (futurist, Paramount Pictures), James Pearse Connelly (production designer,
The Masked Singer
), Ilyasah Shabazz (professor, community organizer, author, motivational speaker), Cathy Hackl (futurist and two-time LinkedIn top voice in tech), Leslie Shannon (head of ecosystem and trend scouting, Nokia), Phil Quist (music agent, CAA), and Leigh Steinberg (sports agent, Steinberg Sports). Moderated by Travis Cloyd (futurist at FIU, co-founder of Worldwide XR).
YouTube:
https://youtu.be/lVPyZPd9Lek
3:30 PM
Artist as Brand, Rise of the Artist Entrepreneur
.
Another perennial and useful panel for creators looking for effective business strategies. Greg Spalenka moderates. Panelists include successful artist/entrepreneurs and influences Ciruelo, Daniel & Dawna Davis Shiflett Brothers , and Jacquelin de Leon.
YouTube:
https://youtu.be/B1w5dz7Gb58
4:00 PM
Manga Publishing Industry Roundtable
.
Deb Aoki hosts a must-see conversation among manga industry publishing heavyweights, discussing trends in the hottest segment of the comics market. Panelists: Ben Applegate (director - publisher services, Penguin Random House), Kevin Hamric (vice president - marketing sales, VIZ Media), Mark de Vera (sales and marketing director, Yen Press), Masaaki Shimizu (general manager and publisher, book publishing division, Square Enix), Ed Chavez (publisher, Denpa Books), Tomo Tran (marketing director, Kodansha USA / Vertical), Erik Ko (chief of operations, Udon Entertainment), Dallas Middaugh (executive editor and co-founder, Mangamo), and Matt Alt (translator and author).
YouTube:
https://youtu.be/gerWLm3hru4
5:00 PM
The State of the Industry: Animation Superstars
.
ASIFA-Hollywood and some of the brightest talents in animation will assemble for a lively discussion about the inner workings of the animation biz! Moderator David Derks (vice president of ASIFA-Hollywood VP), Jorge Gutierrez (
The Book of Life
), Peter Ramsey (
Spider-Man: Into The Spider-Verse
), Brooke Keesling (head of animation talent development at Bento Box), Mike Hollingsworth (BoJack Horseman), and Alonso Ramirez Ramos (Disney Mickey Mouse).
YouTube:
https://youtu.be/mzl4hNo-pyQ
FRIDAY:
11:00 AM
Entertainment is Female: a Conversation with Hollywood Executives
.
Women executives discuss how they are pushing for female representation in Hollywood while adapting comics and games to the big screen. Moderator Tiffany Smith (actress and presenter), along with panelists Jeannette Francis (Bad Robot), Mette Norkjaer (BOOM! Studios), Grey Cusack (Entertainment One), Aubrey Lee (Lord Miller), Nikki Baida (Lord Miller), and Sam Crawley (Skybound Entertainment).
YouTube:
https://youtu.be/I4-OhRvNBCA
1:00 PM
From Idea to Hired: Books, TV, Film, and Comics
.
Agents, managers, and book editors come answer questions about how to take your writing career from the blank page to sold. Moderated by Nathan Bransford (author of How to Write a Novel). Panelists: Quressa Robinson (Nelson Literary Agency), Holly Root (Root Literary Agency), DongWon Song (Howard Morhaim Literary Agency), and Lars Theriot (Industry Entertainment).
YouTube:
https://youtu.be/6FCzVWQKClY
2:00 PM
GirlsDrawinGirls: Industry Professional Women Artists in Quarantine: Balancing work, art, homeschooling, and life
.
GirlsDrawinGirls founder Melody Severns,
The Simpsons
director Debbie Bruce Mahan, Disney Television Animation artist Sherry DeLorme, and other industry professional women artists address working from home during a pandemic and all the challenges they've faced with staying productive in the ever changing world that is the year 2020.
YouTube:
https://youtu.be/j3b-PhVmOdE
4:00 PM
Legendary Spawn Creator Todd McFarlane Talks Toys, Comics, and More!
One of the
best business interviews I did all year
was with Todd McFarlane, who – love him or hate him – tells it like it is. Here's your chance to hear him in conversation with Jim Viscardi, executive editor of Comicbook.com.
YouTube:
https://youtu.be/7DeaTUCyOO0
6:00 PM
Building Your Own Themyscira: Connecting With Other Geeky Bosses
. Best practices for networking and the importance of finding your community with Robyn Warren (owner, Geek Girl Strong), Matt Cox (playwright, Puffs and Kapow-i GoGo), Jazzlyn Stone (freelance comics marketer), and Rose Del Vecchio (co-owner, FanMail). Jordan Dené Ellis (co-editor of
The Sartorial Geek
) moderates.
YouTube
:
https://youtu.be/FrI0mCvmSA8
SATURDAY:
10:00 AM
The Guide: Overstreet's 50th Anniversary
.
The bible of the collecting side of the business celebrates a half century, featuring Gemstone Publishing president and CEO Steve Geppi, MyComicShop.com's Buddy Saunders,
Comics Buyer's Guide
veteran Maggie Thompson, CBCS Primary Grader Steve Borock, and Gemstone's Mark Huesman as they celebrate Bob Overstreet and five decades of
The Overstreet Comic Book Price Guide
. Moderated by Gemstone's J.C. Vaughn.
YouTube
:
https://youtu.be/07LCJs9GXWA
11:00 AM
Finance For Creatives
.
Annual rundown of nuts and bolts finance, tax and credit info for creative professionals, with special attention to resources for surviving the crisis. Panel guests include Sean Nisil (certified financial planner), Neil Narvaez (owner, Professional Tax Services, LLC), Eric Atilano (loan officer, C2 Financial), industry professionals Chris Neuhahn (5 time Emmy-award winning producer & animator), and Alonso Nunez (founder and art director, Little Fish Comic Book Studio). Moderated by Karen Martin (The Princess Project).
YouTube:
https://youtu.be/MFVOT9NPr5g
1:00 PM
Creative Renaissance: How to Thrive When It's Hard to Survive
.
Hear how nonprofit organizations are working with comics creators to support each other and their communities during these challenging times. Panelists: Joe Barrette (Creators, Assemble!), Phil Jimenez (Creators4Comics), Alonso Nunez (Little Fish Comic Book Studio), and Kit Steinaway (Book Industry Charitable Fund). Moderated by Dan Wood (comics librarian, Escondido Public Library).
YouTube:
https://youtu.be/0Cj1cO0Z39k
5:00 PM
Comic Shops : Perservering Through Crisis
.
Retailers, circle this one! Ed Catto moderates a conversation with comic shop veterans Joe Field (Flying Colors Comics & Other Cool Stuff, Concord, CA), Marc Hammond (Aw Yeah Comics, Harrison, NY), Jeff Beck (East Side Mags Montclair, NJ), and Dr. Christina Blanche (Aw Yeah Comics, Muncie, IN) for a surprisingly engaging discussion on retailing endurance
.
YouTube:
https://youtu.be/8JDZftwJPII
6:00 PM
How to (Still) Be a Nerd For A Living
.
The COVID year's edition of the annual panel will share advice from a variety of pop culture industry professionals about the changes they're making for our current times. Panelists including Robyn Warren (founder of Geek Girl Strong), Valentine Barker (freelance illustrator and comic artist), Chris Sanchez (editor-in-chief of Mad Cave Studios), Jazzlyn Stone (freelance comics marketer and host), and Wendy Buske (co-founder of Nerd For A Living, Fictitious podcast).
YouTube:
https://youtu.be/Fowe76xEdgY
SUNDAY:
12:00 PM
Comic-Con Film School
.
This is a nuts and bolts class on how to make a movie for very little money using available video hardware and software. Panelists include Valerie Perez (producer/star of the Paula Peril series), Jack Conway (creative producer Next Generation Esports), Vera Vanguard (writer/producer/star of Breaking Barbi), Nick Murphy (writer/director of All Night Skate), Josh Perilo (creator/writer of Hindenburg), Sean Rourke (writer of Ballistica), and actors Megan Rees, Kelsey Walmer, and Bradley Upton.
YouTube:
https://youtu.be/rvdkGosl-vU
1:00 PM
Writing for TV: From First Draft to Getting Staffed
.
Moderator Spiro Skentzos (Arrow) along with Bob Goodman (Elementary), Niceole Levy (Cloak & Dagger), Jaime Paglia (Eureka), and Letitia Baylor (manager, scripted content, NBCUniversal Networks) discuss navigating the TV spec terrain--including beginner's mistakes, what they look for in a writer and what it takes for you to write a killer spec that will stand above the crowd.
YouTube:
https://youtu.be/WhnXdmrvzq4
2:00 PM
The Four Quadrants of Publishing
.
Jonathan Maberry (
Joe Ledger
), Andrew Mayne (
The Naturalist
), Gini Koch (The Alien/Katherine "Kitty" Katt Series), Nancy Holder (
Wicked
), and Livia Blackburne (
Rosemarked
) discuss the four quadrants of publishing, covering the traditional big five, traditional small press, eBook/POD only, and self-publishing. Moderated by Bryan Thomas Schmidt (
John Simon Thrillers
).
YouTube:
https://youtu.be/2VvsWId20Zc
3:00 PM
Making A Living Being Creative
. Real-world advice on how to survive and thrive in the entertainment industry featuring screenwriter AC Bradley (
Arrow
,
Trollhunters
, and Disney+ upcoming Marvel's
What If?
), storyboard artist Jess Cuffe (
Avengers
,
Guardians of the Galaxy
, and HBO's upcoming
Gremlins: Secrets of the Mogwai
), and freelance artist Lee Kohse (
Star Wars
,
Voltron
,
Aliens
).
YouTube:
https://youtu.be/KfhdnM2Qauc
3:00 PM
World-Builders: The Evolution of Immersive Entertainment
.
My Forbes colleague David Bloom hosts his annual ensemble of media and technology innovators, including: Ted Schilowitz (futurist, Paramount Pictures), Emilie Jolie (co-founder & CEO Apelab - Zoe in-VR Creation Software), Brooks Brown (co-founder & CCO, ViRvi--Bringing Virtual Reality to Art), Kwaku Aning (director, Center for Innovation and Entreprenaurial Thinking - CIET), and Asad Malik (founder 1RIC, Jadu AR app).
YouTube:
https://youtu.be/LLbqsEprLLU
4:00 PM
Careers in Geek Fashion
.
Advice for success in one of the fastest-growing areas of the geek economy – fashion, apparel, accessories and cosmetics, Moderated by Lisa Granshaw (GeekFold, Backstage), panelists Rosa Menendez (Esports Makeup), Dan Madsen (Svaha), Jeff Trexler (Fashion Law Institute), and Dan Richard (DPI Promo, Bethesda Gear).
YouTube:
https://youtu.be/U_ky4SFQGOY
Apologies if I left your panel out. Even in a calamitous year, Comic-Con still manages to pack the program with more content than mere mortals can consume.
I'll miss seeing you all at the big show this year... and if you're missing me, you can at least catch me on a few panels this year:
Comics On Campus : Fandom at Academia
(hosted by Ed Catto, featuring Paul Levitz, Karen Green, Darlynn Overbaugh and Frank Cammuso),
How to Get Press Attention
(Thursday at 10AM, see Part One for summary), and
Decoding the Kirby/Lee Dynamic
(featuring Stan Lee biographers Danny Fingeroth and Abraham Riesman, comics writer/historian Fred Van Lente, and playwright Crystal Skillman), Friday at 11AM.
The opinions expressed in this column are solely those of the writer, and do not necessarily reflect the views of the editorial staff of ICv2.com.
Rob Salkowitz (@robsalk) is the author of Comic-Con and the Business of Pop Culture.