Confessions of a Comic Book Guy is a weekly column by Steve Bennett of Super-Fly Comics and Games in Yellow Springs, Ohio. This week, Bennett looks at the events and products surrounding Bugs Bunny's 80th birthday, and asks, "Where are the comics?"

A lot of popular culture characters are celebrating double-digit anniversaries/birthdays this year, and July 27 marked Bugs Bunny's 80th. I've long been a fan of That Oscar-Winning Rabbit (he won the 1959 Academy Award for Best Animated Short Film for 1958's Knighty Knight Bugs) and the rest of the Looney Tunes gang and the one thing I (and a lot of other fans) have always wanted to see is new shorts, ones that are done in the style and spirit of the originals from the 30s and 40s, but that's always seemed an impossible dream.

The consensus in the entertainment industry has always been such a thing would never appeal to anyone other than Looney Tunes fans, so what we got instead were vain and frequently feeble attempts to "modernize the franchise." Resulting in such oddball reboots and revamps as 2005's Loonatics Unleashed (a series which will forever live in infamy for turning them into teenage superheroes in the future), and 2011's The Looney Tunes Show which inserted them into a faux Seinfeld-style suburban sitcom.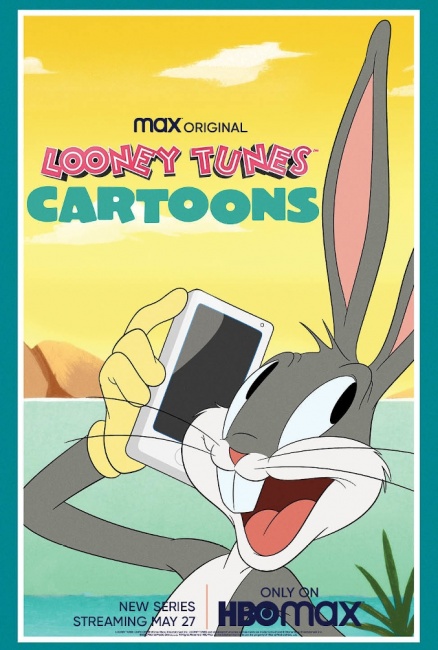 But this year we finally got
Looney Tunes Cartoons
on HBO Max (see "
HBO Max Launch, Looney Tunes Shorts
"), a series of 80 11-minute episodes which feature cartoon shorts that range from one to six minutes, capturing "the look and feel of the originals," according to the
New York Times
. And not only has the show received raves from both fans and critics, as the headline of a piece on
Slashfilm
put it, "'Looney Tunes Cartoons' is the Most Popular Show on HBO Max." The acclaim was been almost universal, but a statement by series executive producer and showrunner Peter Browngardt that they weren't "doing guns" triggered (no joke intended) the triggerable online.
I never mentioned it here because instead of opening another front on the on-going "Culture Wars," it was more of a meager online kerfuffle consisting of some angry tweets and a lot of clickbait headlines. This was probably due to the fact no one was editing out the firearms from the original
Looney Tunes
. And soon enough people were able to see for themselves that the new ones still had, as Browngardt put it (as quoted by the
Times
), "...cartoony violence -- TNT, the Acme stuff. All that was kind of grandfathered in."
And it wasn't like the new ones were about peaceful resolution and understanding; Bugs and Elmer Fudd weren't sent to see a couples counselor (which, come to think of it, might make for a funny short). One of the unexpected comic books creators who worked on the shorts was Johnny Ryan, who's probably best known for the indie comic
Angry Youth Comix,
who's said in the
Times
, "We're going through this wave of anti-bullying, everybody needs to be friends, everybody needs to get along. Looney Tunes is pretty much the antithesis of that. It's two characters in conflict, sometimes getting pretty violent."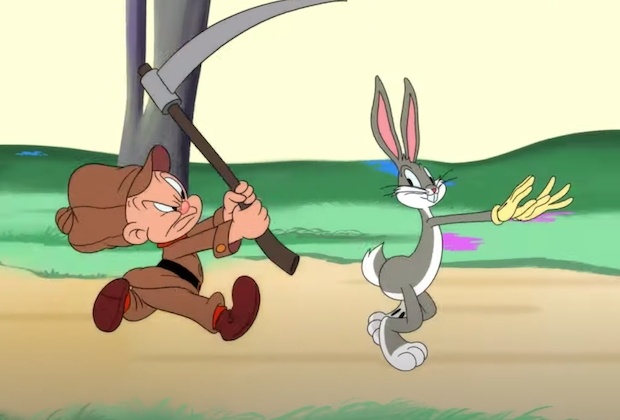 I've seen a few of the new shorts and yes, they are both pretty close to the originals and also pretty violent, even without Elmer's hunting rifle and Yosemite Sam's pistols. I'll confess seeing Elmer chasing Bugs brandishing a scythe doesn't feel quite right, it's a bit too slasher movie-ish, so maybe they could turn Elmer into a Ted Nugent style bowhunter. And as a longtime Looney Tunes fan, I say ditching guns is probably a good idea. Violence is, of course, funny, and exaggerated cartoon violence is especially funny because it's fantasy violence. Seeing Daffy Duck getting repeatedly shot in the face by Elmer in 1953's
Duck! Rabbit! Duck!
was hilarious because there was no discernable chance that could ever happen to me. I don't know if the same can be said for kids today.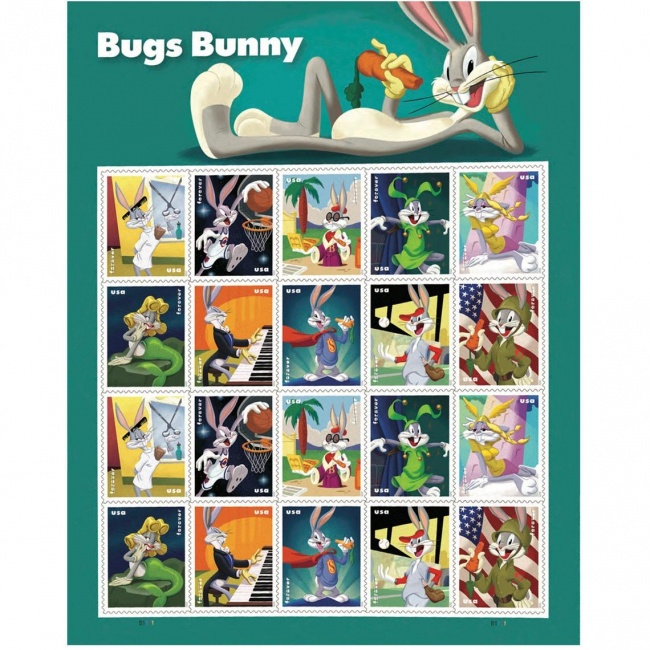 There are all sorts of events and merchandise celebrating Bugs' birthday, from the
Bugs Bunny 80th Anniversary Collection
, which features 60 theatrical shorts on Digital and Blu-ray, plus a full-size Bugs Bunny glitter Funko figure (see "'
Bugs Bunny 80th Anniversary Collection' Has 60 Shorts
"), and Bugs Bunny commemorative Forever stamps. There are social media campaigns and other online activations, according to the Warner Bros. announcement, and of course an official hashtag, #BugsBunny80. But what is conspicuous by its absence is the comics.
Sure, there's DC's monthly
Looney Tunes
title, a well-written and drawn anthology comic that consistently captures the look and attitudes of the characters. But you would think they would want to take advantage of the opportunity from all the attention the media is giving Bugs this year to publish something else featuring the Loony Tunes gang, digitally or in print. Even if it's just another round of
DC Meets Looney Tunes
crossovers comics.
Since I do like dreaming big, what I'd really love to see is a hardcover archive of the Golden Age
Looney Tunes & Merrie Melodies
series, though I would happily settle for just a
Bugs Bunny
comic, even if it's only a one-shot birthday special. But if DC is planning to do anything at all for his anniversary, they sure seem to be keeping it to themselves.
The opinions expressed in this column are solely those of the writer, and do not necessarily reflect the views of the editorial staff of ICv2.com.