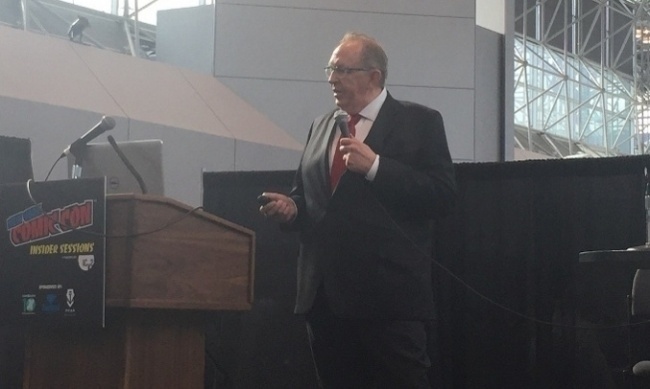 We've been living through a live experiment in the attention economy, and the outcomes are showing that competition for geek culture is everywhere. The live experiment is taking place because COVID has upended how Americans spend their time, rendering huge swaths of commonplace activities off limits or sharply curtailed. Although there's huge variation from place to place and time to time over the past six months, the elimination of some activities is stimulating growth in other activities. And in 2020 America, where attention goes, money follows.
The idea of attention economics is that attention is a resource, and with information and media increasingly cheap to deliver, one that is increasingly scarce. Everyone that wants that attention has to compete with every other bright and shiny bauble catching the light of the afternoon sun.
Let's look at how people spend their time has been transformed by COVID, and how that's impacting the business of geek culture.
There's a long list of activities that people used to spend time (and attention) on that have either partially or completely disappeared:
Meals or drinks with friends
Live sports
Live entertainment
Movies
Televised sports (while there's more than there was three months ago, the reduction in the number of professional and college games played in the second half of the year will be substantial)
Shopping as recreation (as opposed to going in and out of a specific destination as quickly as possible)
Where is all this new-found time (and money) going? That's where it gets interesting. In addition to activities distant from geek culture (like outdoor recreation), there have also been big moves of time into geek culture categories.

At macro scale, video games and streaming video have been big beneficiaries of the shift in attention. U.S. video game sales in Q2 were a historic record for the quarter, according to NPD, up 28% over Q2 2019. Netflix reported record Q2 subscription growth in Q2, and has added 26 million paid subscriptions in the first half of 2020, nearly as many as the 28 million subs it added in all of 2019.

Even with those huge new time sucks, though, the categories of geek culture we cover here at ICv2 have also been beneficiaries of the newly available attention previously devoted to COVID-impacted activities. On the game side of the house, we've reported on strong sales for TCGs, and for miniatures and miniature games. That sales of miniatures, which are often played in-store on large tables with terrain or grid-maps, would go up despite the inability to access those settings was perhaps most surprising. Who would have thought that a global pandemic would result in an explosion of time spent on painting gaming miniatures?

The results for card and board games have been more mixed, with increases in classics and family games, and more depressed sales for more complex games for larger numbers of players. Adult party games, which were already in decline, were perhaps the category with the biggest negative impacts. RPG sales were down during the early shutdown periods, but have come back recently, perhaps as players became more adept at using Discord and other tools to get together.

Overall, COVID appears to be a net benefit for time (and money) spent on tabletop gaming, although retailers have certainly had their problems staying open and getting consistent supply.

My feel on the comics and graphic novel business is that time spent reading graphic novels is up, and time spent reading periodicals is down. Graphic novel sales have been up in the book channel, and comic retailers have also told us that graphic novel backlist has been a strong area of their stores. Kids graphic novels continue to grow; COVID has also impacted the things kids spend their time on, and reading has picked up some of that new time and attention. Parents desperate to replace time spent in school or at after-school activities with something besides screen time have helped to drive that trend.

Periodical comics were dramatically impacted by the shutdown of Diamond Comic Distributors for seven weeks early in the pandemic, and by how publishers have adjusted their release schedules in response. Publishers were very concerned that they would push out non-returnable periodicals into a market that was not ready to absorb them, and as a result, even after Diamond resumed shipping new products, the shipments of new comics have lagged far behind where they were prior to the shutdown. According to Comichron's counts of monthly new comic releases, in July Diamond shipped 327 new comic issues, compared to 459 in March. That's 29% fewer releases in July, normally a big release month, than there were in March, normally a lighter release month.

Multiple mid-level publishers have told us that their sales on post-shutdown issues have been higher than they would have been without the shutdown. How can this be? The answer is that with fewer titles shipping, especially from the Big Two, the mid-sized publishers have been able to get better sales because there's less time (and money) being spend on Marvel and DC titles. Marvel and DC combined put out 95 new comic issues in July, vs. 170 in March. Companies below the top seven comic publishers also cut their output dramatically, shipping 109 issues in July vs. 152 in March. What I sometimes call the Middle 5 (Image Comics, IDW Publishing, Dark Horse Comics, BOOM! Studios, and Dynamite Entertainment) were down a lot less, shipping 123 new issues in July vs. 137 in March.

The net of all that for periodical comics is still a decline in time spent; the 29% decline in new releases, in an activity that's driven by the cycle of new issues every week, is too much to overcome with incremental increased sales on the books that did ship.

The hit to periodical sales and to time spent reading periodicals gives further fuel to the long-term trend toward graphic novels as the preferred form for comic material. The big question now is whether periodicals can recover to where they were pre-COVID. It seems likely, especially with the recent changes at DC (see "Jim Lee: Bottom 20-25% of the DC Line Was Losing Money"), that publisher output may not get back to where it was pre-COVID any time soon.

Retailers live in an attention economy too, and here's where a reduction in periodical output may actually be good for business. With fewer low-performing titles to distract from promoting titles that are more successful, the entire comic business may benefit from the cutback in production. Fewer titles selling higher numbers per issue are better for everybody.

What's next? There are some big macro factors on the horizon. Movie theaters are starting to open, however haltingly. And a new round of video game consoles, along with new game releases made for them, is due to start hitting late this year, which should give another boost to the time spent on video games.

In the other direction, few shows for television have resumed production, and we're going to hit a gap in new material in the coming months. While the long tail of television grows every longer, with more and more catalogue material available constantly, the drop in new material could negatively affect time spent on network, cable, and streaming TV, freeing up some time for other activities.

My big takeaway from this live experiment has been how clear it is that tabletop games and comics compete with every leisure activity that takes time and/or money. I used to think the competition was only with similar activities, and limited at that; for example, a comic fan might go to a comic movie instead of reading a comic, or a gamer might play video games instead of a tabletop RPG. But it seems pretty clear that in the war for people's attention, everyone involved in producing and selling games and comics needs to recognize that strange as it may seem, their competition is… everything.

We're putting these World According to Griepp coronavirus columns (one from the previous month back was on the drama between Diamond Comic Distributors and DC, see "World According to Griepp: The DC-Diamond Story") on the public site instead of the Pro site because of the importance of the times, but please support our Pro site with a new or ongoing subscription.

Milton Griepp is the founder and CEO of ICv2, and long-time executive in the geek culture business. The opinions expressed in this column are solely those of the writer.