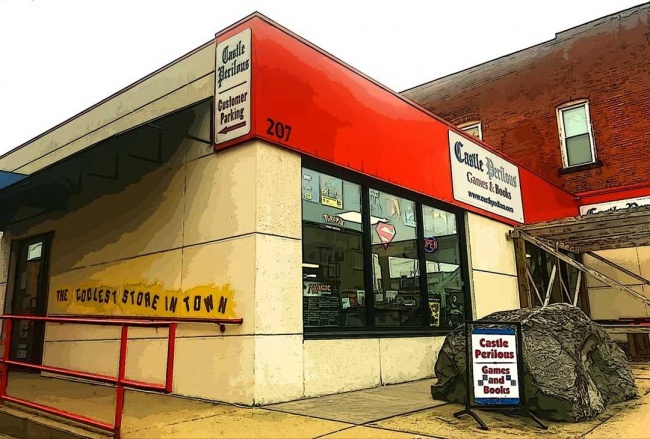 Rolling for Initiative is a weekly column by Scott Thorne, PhD, owner of Castle Perilous Games & Books in Carbondale, Illinois and instructor in marketing at Southeast Missouri State University. This week, Thorne talks spooky sales for Halloween, and takes a look at where we are headed for Christmas.
Well, this does not bode well for the upcoming holiday selling season. I went checking in stocks on half a dozen board games that will be in demand this Christmas at three different distributors and only found one in stock at any of the three. However, I did manage to find five of the six on sale on Amazon, usually at a discounted price. Granted the epidemic has raised hob with shipping and supply lines, but still five out of six not available through distribution and five out of those same six available for order through Amazon does not bode particularly well for distribution and stores having them in stock for Q4.
I guess that means stores will need to look at the games that we can stock, focus on promoting those and look pretty askance at any new offerings from those companies that are making sure Amazon has their hot games in stock. Research consistently shows that people buy games, or other products, they have heard about or are familiar with online, but buying new games that have to be sold in person are typically sold through the store. Kickstarter and other crowdsourcing platforms are great for attracting attention, but the majority of products offered on crowd-funding platforms do not fund.
At least the Halloween selling season is about as good as usual, which is to say non-existent, at least as far as horror themed products sell. Maybe it's just our store, but we have never seen any increased sales in any Halloween-style game at this time of year. No increased movement on games like Betrayal at House on the Hill, Mysterium, Zombies, or Dead of Winter, nor any horror related graphic novels for that matter. The only spooky-themed item of which we see any bump in sales are Ouija boards. We always see a few groups come in the week before Halloween wanting to pick one up to scare themselves on Halloween Night with, so make sure to have comparatively inexpensive sets on hand this time of year.
Now , don' t get me wrong, I love Halloween. We decorate the store every year and, up until this year have hosted a Halloween party the Sunday before the holiday that is typically one of our biggest sales days of the year. Not this year though, as we have no desire to pull in that many people that closely together for that long a period of time. Oh well, it gives us another year to plan the event.
Still we do have the Christmas season coming up. Given the slowdown in shipping that we have seen over the past several months, I would expect the same to continue, despite the increased staffing Amazon and Wal-mart are planning. Shipping slowdowns for online retailers mean that reasonably well-stocked FLGS (and FLCSs as well) should see good foot traffic this holiday (assuming we do not see a big uptick in the number of cases of COVID-19).
What do you think this Christmas will bring?
Email castleperilousgames@gmail.com with your thoughts, and if you are okay with them appearing in the column.
The opinions expressed in this column are solely those of the writer, and do not necessarily reflect the views of the editorial staff of ICv2.com.