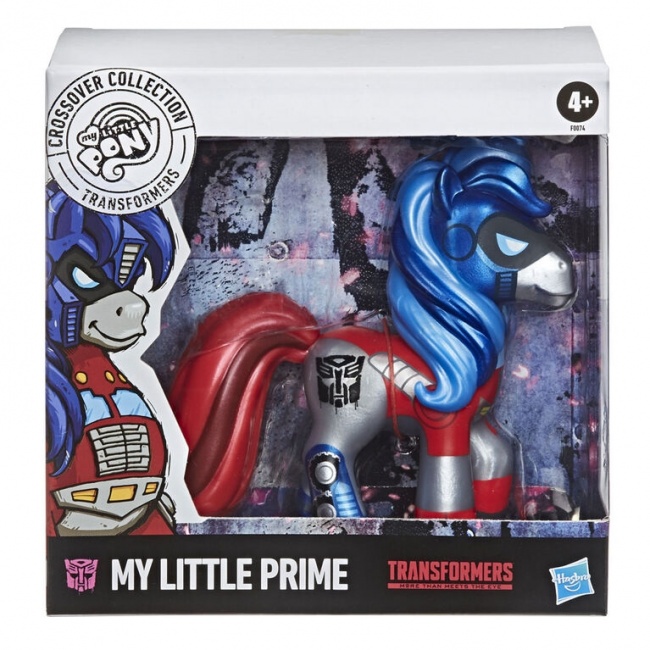 Confessions of a Comic Book Guy is a weekly column by Steve Bennett of Super-Fly Comics and Games in Yellow Springs, Ohio. This week, Bennett offers up his best holiday toy picks for ICv2 Gifts Week.
As previously established (see "Confession Of A Comic Book Guy - I Don't Ask Questions, I Just Have Fun"), despite of being indifferent to both magical flying ponies and transforming robots, I'm unironically enamored with the Transformers/My Little Pony: Friendship in Disguise! comic. Usually, these sorts of franchise crossovers follow a pretty standard meet-up, beat down, and team-up template. But so far, this one has done a remarkable job of ignoring the obvious tropes, focusing instead on a series of character-driven short stories that take a deep dive into the core of the concepts. The only thing missing in it is as follows: no Pony has no transformed into a robot and no Transformer has turned into a Pony thus far.
It's a crossover that deserves to be more than "just" a comic book, and now there's My Little Prime, a figure that has a retro My Little Pony form factor with Transformers-inspired design. It seems to be for kids (it's advertised for "Ages 4 and up") and hardcore Pony/Transformers collectors; the solicitation stresses how you can "display your figure in the special packaging". It doesn't actually transform into an Optimus Prime Pony, so this one might be mostly for My Little Pony fans.
I'm on the record as not being a big fan of Funko POP!s (which I like to call Squatties, even though I'm the only one who seems to find that funny), but for some reason, I really like the Loki Super-Sized Cosbaby from Hot Toys. Standing at 11-inches, he's wearing his armored outfit and horned helmet and his accessories include his scepter, and the Cosmic Cube (I refuse to call it a "Tesseract"; usually when the MCU made changes to Marvel Comics, it's for the better, but not in this case) and while it has zero points of articulation, it does move, thanks to its "bobble-head function".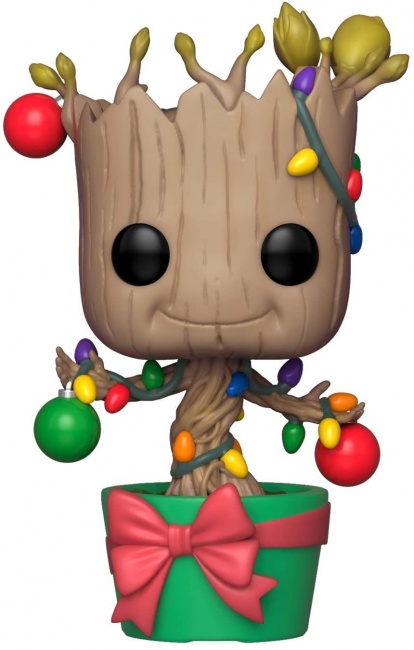 I know I just said I wasn't a big fan of Funko POP!s, but there are exceptions, like the
Holiday, Guardians of The Galaxy - Groot Collectible Figure
. This 3.75 inches tall figure is called a "collectible", but seems perfectly practical to me. I like celebratory festoonery as much as the next guy, but pulling holiday displays out of storage then assembling them has always seemed more like an ordeal than a beloved holiday tradition to me. But all of that's a snap (and not the universe-altering kind) with Holiday Groot! This seems like the very thing for comic shops to not just stock but have on display as decorations.
The copy says that it's "perfect for any holiday," and while I can definitely see Holiday Groot being an appropriate accessory for Christmas, Hanukkah, and New Year's, I'll have to get a ruling from a reliable source as to whether it's suitable for Eid-al-Fitr (the "Feast of Breaking The Fast" celebrated by Muslims during the month of Ramadan) and Diwali (the Indian Festival of Lights).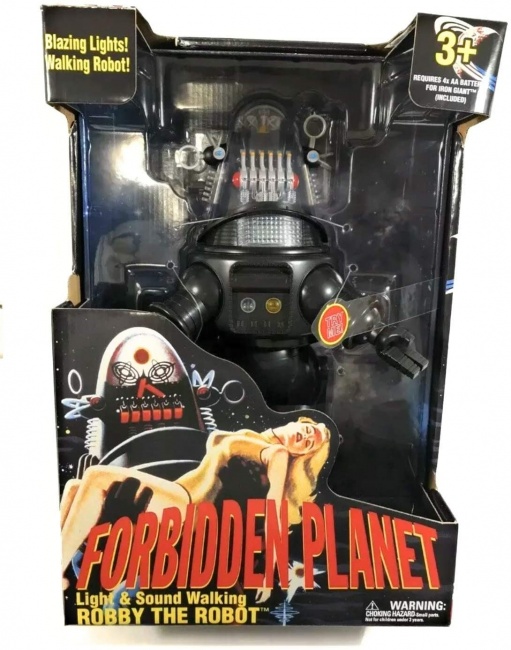 The
Transformers
franchise lack of appeal for me probably has something to do with the fact that I've never been what you'd call a car guy; even when I was a kid I didn't share the other boy's obsessive interest in things with wheels. But I do dearly love full-time robots which is why I was delighted to come across the
Forbidden Planet Robby The Robot Figure Walking Light & Sound
.
Forbidden Planet
of course is a 1956 science fiction film that contained such ground-breaking concepts as faster than light travel and Robby, an autonomous robot that was (as the text on the box put it "Part Chef, Chauffeur, Servant and Strongman, Robby the Robot won over audiences of
Forbidden Planet
with his charming personality and arsenal of futuristic abilities!"
It's hard to imagine any genuine robot aficionado not wanting this 12-inch, battery-powered version of Robby which comes with "spinning motion, motorized walking motion, cosmic lights and sound, light-up head gears, cosmetically cool sound FX, collector's quality styling" and "forward-walking motion."
For all of the ICv2 Gifts Week articles on 2020 holiday merchandising, see "ICv2 Gifts Week 2020!"

The opinions expressed in this column are solely those of the writer, and do not necessarily reflect the views of the editorial staff of ICv2.com.