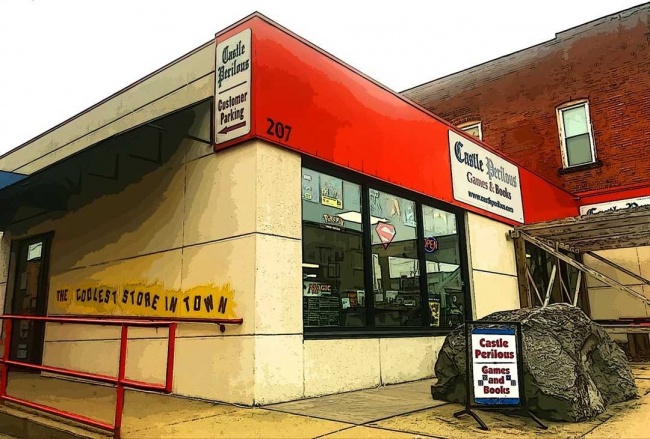 Rolling for Initiative is a weekly column by Scott Thorne, PhD, owner of Castle Perilous Games & Books in Carbondale, Illinois and instructor in marketing at Southeast Missouri State University. This week, Thorne takes a break from talking about a possible Wizards of the Coast sale, and addresses some of the Holiday Season retail trends that are developing in his store.
After looking at the possibility of Hasbro selling off part or all of WotC the past couple of weeks, I think Hasbro would more likely keep the
Magic
brand, since it fits pretty well with Hasbro's overall strategy, and put the
Dungeons & Dragons
brand out for bid to one of the publishing houses.
D&D
is incredibly hot right now and publishers would salivate over the opportunity to pick up a brand that generates the level of sales that its products do annually (see "
Rolling For Initiative -- Who Could Buy WotC?
").
However, I'd would like to put talk of a possible WotC sale on the back burner, and take a look at few other things that have struck me this holiday season:
Thank Goodness for the Queen's Gambit. From what I have read, sales are up some 1000% on chess sets from the two largest manufacturers in the industry and a number of game stores have reported selling chess sets that have sat on the shelf for months or even years. It does appear that sets with wooden boards are much more popular with the chess buying public than the silicone mats sets, at least locally, as we quickly sold out of the sets we stocked with folding boards but still have a number of sets that come with the compressible silicone mat. It also appears, at least locally, that those buying sets have somewhat of a familiarity with chess play since we stocked up on Winning Moves' No-Stress Chess sets for the holiday and have not sold any yet, though we have moved several of the Best Chess Set Ever sets, despite them having the folding silicone board. However, unlike D&D and Stranger Things, I do not expect to see the chess sales boom continue much into 2021 (see "'Stranger Things' Meets 'D&D'"). Stranger Things has at least one more season under its belt and when it releases, I expect a slight resurgence in people wanting to try D&D. I do not expect to see a second season of The Queen's Gambit. From what I can tell, the story was told and people will move onto the next hot series.

No New Releases. This, in my opinion at least, is a pretty good thing for this time of year. If a publisher releases a new game in December, unless they have spent months building up interest in it, the new board game release usually gets lost in the shuffle. Customers are certainly coming into my store looking for games (and graphic novels), but they are looking for items they or the people they are buying for have already heard of. We're briskly selling the evergreen titles from Asmodee like Ticket to Ride, Catan, and Carcassone as well as other standards that have been out for several years such as Forbidden Island,Castle Panic, Coup, Codenames, and Boss Monster. New releases trading on movie properties like Rambo, Escape from the Overlook Hotel, and Back to the Future: Back in Time have sat there, at least so far.

In-stocks. My gosh, in-stocks of evergreen catalog titles have been amazing this year! I've been pleasantly surprised to regularly go to distributor websites and find that most of the above mentioned games are actually in-stock and ready to ship! In most cases, I've put an order in on Monday and had it arrive in time to restock shelves for the weekend. Kudos to both publishers and distributors on a great job.
Anything strike you as out of the ordinary this holiday, I mean, besides the epidemic? Email castleperilousgames@gmail.com.

The opinions expressed in this column are solely those of the writer, and do not necessarily reflect the views of the editorial staff of ICv2.com.