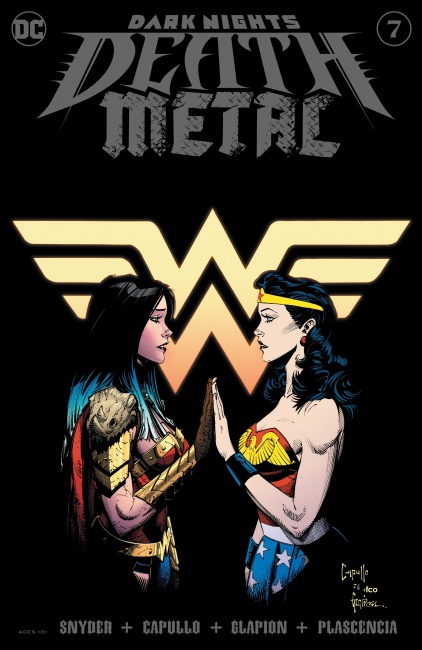 Confessions of a Comic Book Guy is a weekly column by Steve Bennett of Super-Fly Comics and Games in Yellow Springs, Ohio. This week, Bennett takes a look at last week's mega-releases for comics.
A lot of high-profile comic books came out last week, but the highest-profile of them all was undoubtedly Scott Snyder and Greg Capullo's
Dark Knights: Death Metal #7
, and I could hardly wait to read it; though only because I couldn't wait for the series to end. It was overwrought, pretentious, and portentous from the very beginning and reading #7 was just as slow a slog, but I kept reading because I really wanted to see them hit the DC Universe reset button again.
And that button did get hit, and hard. I went away happy because the final 10 pages featured beautiful art by Yanick Paquette and Bryan Hitch including a two-page spread where in celebration the DC characters throw themselves a real rager of a rave (I had always suspected that the good guys threw a big party after surviving a Crisis), and it was capped off by the return of the Justice Society of America.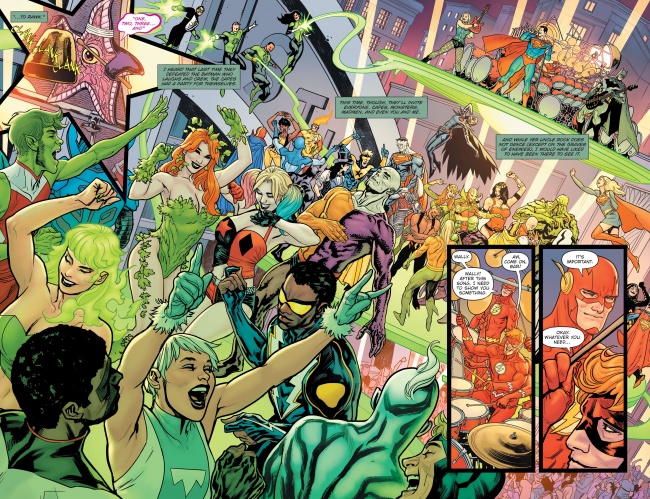 Speaking of which, there's finally going to be a DC Universe Justice Society movie,
Justice Society: World War II.
So far, almost nothing is known about it other than its title, and that it will have a substantial voice cast. However, they did release a cool-looking piece of art from it. And for someone who's been looking forward to something like this most of his life, having actual visual evidence that it's going to happen is good enough for me.
Just as one DC event ends, another one begins with
Generations Shattered
#1, an 80-page $9.99 one-shot written by Dan Jurgens, Robert Venditti, and Andy Schmidt and with art by Ivan Reis, Bryan Hitch, Kevin Nowlan, Aaron Lopresti, Fernando Pasarin, Paul Pelletier, John Romita Jr., Doughbraithwaite, Rags Morales, Dan Jurgens and Klaus Johnson, and Mike Perkins. It's basically a scaled-down do-over of
Crisis Of Infinite Earths
with a smaller cast (Batman, Kamandi, Starfire, Sinestro, Booster Gold, Dr. Light, Steel, and Sinestro) that, understandably, reads like a 90s Dan Jurgens comic. Not that that's a bad thing. It sure is pretty and is proof that an existential threat on a cosmic scale needn't necessarily be dreary.
As someone who keeps talking about how much I look forward to finding something new in comics, I was looking forward to DC's
Future State
, and so far I've found most of them to visually arresting, with looks distinctly different from current DC Comics, and full of wild ideas. They're all intriguing, but so far my favorites are
Superman of Metropolis
by Brandon Easton, Sean Lewis Art by Valentine De Landro, John Timms,
The Next Batman
, by John Ridley and Nick Derington, and (especially),
Wonder Woman
written and drawn by Joëlle Jones.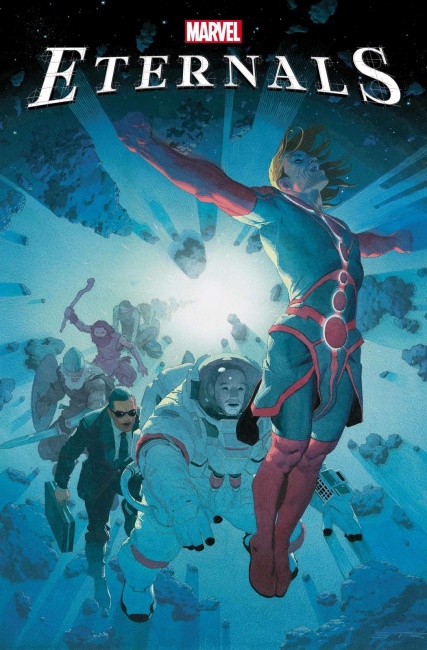 Marvel comics of course also came out last week and while I did enjoy many of them (
The Rise of Ultraman
,
Guardians of the Galaxy
,
Thor, Iron Man
,
Juggernaut
,
Hellions
,
M.O.D.O.K.
-
Head Games
), and a bunch of
King In Black
ancillary titles, but the highest-profile Marvel title was
Eternals
#1 by Kieron Gillen and Esad Ribic. Over the years, there have been various attempts at reviving Jack Kirby's characters without much luck, but there's an
Eternals
movie coming out later this year so Marvel pretty much has to try again.
And, so far, this one works just fine. Readers who go in knowing absolutely nothing about the
Eternals
will be okay because it is a rock-hard reset; all the major characters have just recently gotten better from being dead. Gillen does a fine job of introducing the cast and explaining what they can do and what they're for while remembering to include some obligatory appearances by Marvel Universe characters. There's a brief appearance by Iron Man and the final page reveals a major Marvel villain who everyone (including me) tends to forget is an Eternal.
The opinions expressed in this column are solely those of the writer, and do not necessarily reflect the views of the editorial staff of ICv2.com.