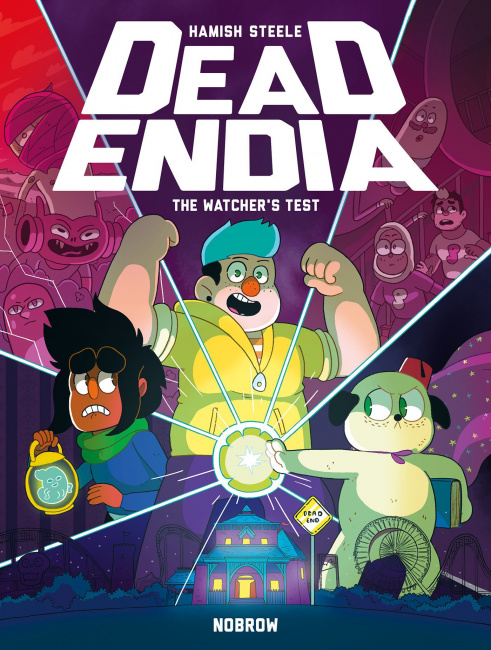 Confessions of a Comic Book Guy is a weekly column by Steve Bennett of Super-Fly Comics and Games in Yellow Springs, Ohio. This week, Bennett discusses how Senators are attacking Netflix's Dead End: Paranormal Park, the new Astro Boy Series, and Popeye news.
It's still Pride Month and there's still a lot to write about, like, the recent premiere of Netflix's Dead End: Paranormal Park, features Barney, the first trans lead character in an animated series who is voiced by a transgender actor, singer, and comedian Zach Barack. Based on Hamish Steele's DeadEndia graphic novel series, it's about Barney and the neurodiverse (which in her instance means the anxious). Norma, who answers an ad for a job at a haunted amusement park and soon are bonding over battling supernatural forces.
For the record, Netflix's Dead End: Paranormal Park, provides a lot more than groundbreaking trans representation; it's also a visually interesting horror/comedy that finds interesting twists on some very moldy tropes. And, for the record, it uses the word "trans" exactly once (in the second episode), and provides no further information about what the word means.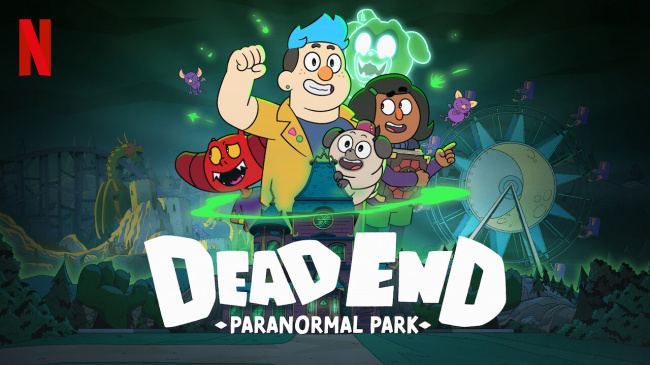 Netflix has given
Netflix's Dead End: Paranormal Park
a TV-Y7 rating, meaning it's suitable for ages 7 and up. And while the series is certainly suitable for younger kids, as creator Steele has said in interviews, just like the source material the animated adaptation is meant for young adults (specifically 12-13-year-olds). The Common Sense Media website seems to agree, giving the show a 13+ rating.
This hasn't stopped four US Senators going to war with Netflix over the series. On May 4, U.S. Senators Roger Marshall, Mike Lee, Mike Braun, Steve Daines and Kevin Cramer "directed an open letter to the TV Parental Guidelines Advisory Board demanding to update its rating system and include trigger warnings that tell whether a show contains content related to sexual orientation or gender identity."
Marshall's office released four examples of the kind of shows they feel need this trigger warning; Nickelodeon's Danger Force and The Loud House, Netflix's She-Ra and the Princesses of Power, and (apparently sight unseen) Dead End: Paranormal Park. The "representatives did not specify the details about what they found offensive in these particular programs."
According to a story in Variety, Thomas Astruc, the creator and director of the Miraculous – Tales of Ladybug & Cat Noir franchise, and Method Animation are working on a new CGI-3D version of an Astro Boy series that will consist of 52 episodes. According to the piece, the original Astro Boy series was the first anime to air in France where it was popular and "paved the way for other Japanese TV animation series" Astruc "compared the cultural impact of Tezuka's work to that of Victor Hugo and Jack Kirby" and said the series would "address today's hot-button issues, including the impact of the Internet, social media and the damages caused to the environment by humans."
Hy Eisman, who had drawn the Popeye Sundays for 28 years, recently retired and on June 5 we saw the first strip from his replacement Randy (R.K.) Milholland, a 46-year-old Texas cartoonist who created the webtoon Something Positive. The daily Popeye strips will continue to be reprints of strips drawn by Bud Sagendorf, who had worked as an assistant to Popeye's creator E.C. Segar. A long-time fan of the strip, Milholland plans to modernize the strip (he sees Olive Oyl as a millennial and Popeye as a "tail-end Gen-X'er"), update the humor, and diversify the cast. Most interestingly, he also "intends to reintroduce the more fantastical elements of the strip that have been lost over the years, including monsters."
And speaking of Popeye and monsters, on June 1 I found a piece online that shared concept art showing Popeye in a cave facing down a crowd of one of the strip's most memorable monsters, the Goons. It had originally appeared on the Twitter account of Batman/Sandman artist Kelly Jones where he wrote that he had "...came close to doing a scary Popeye comic, one of those near misses that I would have loved to do. Maybe one day still!" Here's hoping.

The opinions expressed in this column are solely those of the writer, and do not necessarily reflect the views of the editorial staff of ICv2.com.