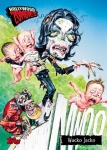 The Topps Company is planning to get its share of the burgeoning 'zombie' craze with the June release of Hollywood Zombies Trading Cards. Drawing on its vast experience in creating satirical images for previous card releases such as the Garbage Pail Kids and Wacky Packages, Topps is creating a card series that pokes fun at the inflated egos of Hollywood celebrities. Mad Magazine artist Herman Mejia joins a stellar crew of visual satirists including Drew Friedman, Richard Williams, Mark Stutzman, and Mark Fredrickson to create such easy to identify undead celebrities as Tom Ooze, Paris Hellton, and Wacko Jacko.
Considering the seemingly endless parade of parody-worthy performers who dominate our celebrity-obsessed contemporary media, this series of cards should tap a rich satirical tradition that Topps V.P. of Publishing Ira Friedman notes runs 'throughout our nation's history, going as far back as the Revolutionary times.' Taking its cues from the popularity of Image's The Walking Dead and Marvel Zombies, as well as the cinema's enduring love affair with the undead, Topps is cleverly using the current zombie craze as the medium for widespread lampooning of contemporary celebrity culture.
Although Hollywood Zombies has mass market potential Topps plans to release the cards in comic stores, collectible card shops and select specialty retailers before introducing it into the mass market.