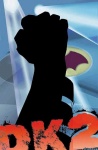 The December Top Ten Cool lists, which reflect how products actually sold through in pop culture stores, had big products selling big, with few surprises at the top of the list, but some interesting movement in lower ranks. As expected, Frank Miller's Dark Knight Strikes Again from DC Comics topped the Comics list, while the Dark Knight Strikes Again Statue from DC Direct held down first place in the Toy category. Elsewhere the Lord of the Rings CCG maintained its top position in the Games category, while big ticket items did well in all categories, reflecting the holiday impact. Let's take a closer look at the individual categories.
Comics
No surprise at the top, where the highly anticipated Dark Knight Strikes Again #1 dominated by a large margin. Note the number of trade paperback and hardcover items that made the list. Captain America #50's top ten positioning was due primarily to its $5.95 cover price. This list would have looked very different if top Marvel titles Origin and Amazing Spider-Man had shipped in December as scheduled. Note the appearance of Dan Clowes Eightball #22. This undoubtedly says something about the mix of stores reporting to ICv2, which contains some very hip urban retailers, but it also testifies to a greater awareness of Clowes and Eightball due to the popularity of the Ghost World movie -- and retailers who don't normally do much with 'alternative' titles might well consider bringing in a few Eightballs, while dealers who do stock the title should keep a close watch as it appears to be selling through quickly.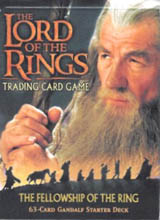 Games
December's list is composed entirely of collectible card games, with the by now standard exception of a product or two from WizKids, the creators of the collectible miniatures game. Lord of the Rings from Decipher retains the top spot again, while the Dragonball Z game from Score shows no signs of slowing down. Decipher, which has lost the Star Wars license to WOTC, (see 'WOTC Gets Star Wars CCG License'), placed its latest Star Wars offering, Theed Palace, at number five. The Marvel Recharge game, which debuted in November, finally made it on the list but only at number ten.
Toys
Statues, with their high price points, dominate this list once again with the Dark Knight Strikes Again a clear number one. DC Direct did very well gaining four spots overall thanks to the Silver Age Green Arrow and Solomon Grundy action figures and the Smallville PVC figures, based on the popular TV series (DC Direct will also be doing Smallville Action Figures -- see 'DC Direct'). Note another TV property that consistently performs well -- Farscape -- and it's pretty obvious that Monty Python still has some drawing power in this market.
Anime
Without a plethora of new releases, high ticket items dominate this list again and many of December's top products are holdovers from November (Cowboy Bebop, Robotech Masters, Ranma 1/2 Digital Dojo, etc.) Note that the Batman-esque Big O anme continues to perform well, and that Bandai's Mobile Suit Gundam and Crest of the Stars also did well, while Rurouni Kenshin remains a very strong property.
Movie/TV
Trading cards lead the list this month -- and the top three slots are all filled by TV-inspired cards from Xena, Andromeda, and Star Trek.

The fact that the Lord of the Rings Trading Cards are not on our list represents a major opportunity missed by pop culture retailers since the Topps LOTR cards have been selling briskly in card stores.

DVDs based on TV series continue to do well, witness the Simpsons Season One DVD, which managed to hang on for one more month.

Other than the Simpsons, note the prevalence of science fiction titles.

The only movie-inspired title on the list this month is The Matrix Revisited (see 'Matrix Revisited')--collection of previews and features that Warner Brothers is hoping will keep fan interest in the property stoked until the next Matrix film appears in 2003.