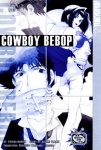 In a major announcement that will affect its entire line of manga, Tokyopop announced that starting in April of this year all of its manga titles will be printed in the standard Japanese format so that they will have to be read from right to left and back to front. Publishing manga in this manner will avoid reversing the images and make the books as close to the Japanese originals as possible. Avoiding all the adaptation chores involved in reversing the images will allow Tokyopop to publish its growing number of key manga titles with three-to-six times greater frequency than the current industry standard -- which means that the company will be able to maintain a monthly schedule for some of its graphic novel series. Tokyopop will also leave in place all the printed sound effects of the Japanese versions, which are typically printed in Roman letters and which will provide American readers with a more authentic manga-reading experience. Tokyopop's burgeoning list of manga titles means that this new authentic manga treatment will be applied to a wide range of books including: Cowboy Bebop, Dragon Knights, GTO, Initial D, Kare Kano, Kodocha, Love Hina, Marmalade Boy, Mars, Paradise Kiss, Planet Ladder, Real Bout High School, and Skullman, to name just the titles slated for release in April and May. Also, according to the company the new changes will allow Tokyopop to maintain the $9.99 price point for its graphic novel/manga collections, which will provide Tokyopop titles with a significant price advantage over English language manga adaptations published by other companies.
Viz has been publishing Akira Toriyama's Dragonball comic in the Japanese right to left format for quite some time, but this has been because Toriyama disliked the artistic effect of having his artwork reversed and reportedly refused to allow it to be published in the western format. Tokyopop is the first American publisher to announce that it will maintain the original Japanese format for its entire line, and to do so on its own, not as a result of pressure from Japanese artists or publishers. Though in the past western publishers of manga have felt that reading from right to left (and back to front) would be an impediment for non-Japanese readers, Tokyopop's manga research has generated so much positive feedback that the company decided to take this unprecedented step. Tokyopop will include an 'authentic manga' how-to guide in each graphic novel, but the company's research indicates that the new format will quickly become second nature for most readers.
Tokyopop has decided to make an event out the format switch -- and retailers can expect the publisher to back this change with innovative displays.

Look for details in future editions of ICv2.