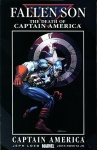 Marvel dominated periodical comic sales in May earning big gains in both dollar and unit market share thanks to a slate that included eight of the top ten best-selling titles. For the second month in a row a Fallen Son: Death of Captain America title was the best-selling title, followed in May by the Steven King-derived Dark Tower: The Gunslinger Born #4. Other Marvel top ten titles included Captain America #26, New Avengers #30, Astonishing X-Men #21, Amazing Spider-Man #540, Mighty Avengers #3 and World War Hulk Prologue, while DC Comics placed Justice League of America #9 in third place and All Star Batman & Robin #5 (originally solicited in the Late Cretaceous) in the ninth spot. DC's Countdown series appears to be off to solid start, but Marvel's World War Hulk titles did even better and it looks like they just might keep the mighty Marvel engine roaring across the next few months.
Overall eleven of the top 25 titles were down while over seven registered gains (seven were one-shots or number 1s), but that ratio is a little misleading -- with the exception of Captain America #26, which plummeted from the enormous sales of the previous death-driven issue, the drops in circulation were generally very small, while the Incredible Hulk more than doubled its circulation (due to the World War Hulk event) and Joss Whedon's Buffy the Vampire Slayer #3 (which is really a continuation of the Buffy TV series -- Buffy Season Eight) was up substantially. The first issue in that series sold an additional 15 thousand plus copies in May after selling some 16,800 reorder copies in April. Marvel's Dark Tower has also been selling hefty reorder numbers (#2 had May sales of over 18,500 copies).
Marvel also managed a better than average performance in the graphic novel market taking five of the top ten spots (and 11 out of the top 20) primarily with its Civil War trades. Marvel's basic Civil War collection, which dominated the graphic novel list in April with sales of over 19 thousand copies, added 8,589 to its totals in May demonstrating that the Civil War event is as potent in graphic novel format as it was in periodicals. DC generally dominates direct market graphic novel sales so it comes as no surprise that Brian K. Vaughan's Y: The Last Man Vol. 9 was the top-selling title of the month, finishing just shy of 13,000 copies sold. DC also placed its first 52 volume at #5 (8,757), but had only one other title in the top 20 (Minx's Plain Janes at #18). Garth Ennis's The Boys, which began as a DC/Wildstorm title (see 'The Boys Not Too Hot For Dynamite'), finished at #10, but it is now published by Dynamite Entertainment.
Mention should also be made of Robert Kirkman's Walking Dead Vol. 6 from Image, which finished a close second to Y: The Last Man, demonstrating (like the perennial Marvel Zombies hardcover ending up at #15) that the zombie craze is far from over. Another phenomenal book is Archaia Studios Press's Mouse Guard Vol. 1 hardcover, which ended up at #8 with sales of some 7,604 copies, a sterling performance from an independent publisher.
Viz Media's Naruto Vol. 14 was the best-selling manga title for Diamond ending up at #19 with sales of 5,857 copies, followed by Bleach Vol. 19 at #28 and Dark Horse's Berserk Vol. 17 at #33.
Here are ICv2's estimates of the sales by Diamond Comic Distributors to comic stores on the top 25 comic titles in May:
170,027 Fallen Son Death of Captain America: Captain America
131,753 Dark Tower: The Gunslinger Born #4
129,285 Justice League of America #9
126,449 Captain America #26
126,425 New Avengers #30
120,495 Astonishing X-Men #21
119,662 Amazing Spider-Man #540
115,440 Mighty Avengers #3
114,302 All Star Batman & Robin #5
111,153 World War Hulk Prologue: World Breaker
110,192 Incredible Hulk #106
106,634 Buffy the Vampire Slayer #3
105,745 Ultimates 2 #13
103,189 Avengers Initiative #2
102,075 52 Week 52
96,900 Justice Society of America #6
96,082 Wolverine #54
92,821 New Avengers Illuminati #3
91,083 Countdown 51
83,752 Countdown 50
81,965 Uncanny X-Men #486
81,484 Countdown 49
81,324 Marvel Zombies: Dead Days
80,122 Batman #665
79,810 Countdown 48

We are estimating actual sales by Diamond U.S. (primarily to North American comic stores), using Diamond's published sales indexes and publisher sales data to estimate a sales number for Batman (the anchor title Diamond uses in its calculations), and using that number and the indexes to estimate Diamond's sales on the remaining titles. We can check the accuracy of our numbers by comparing the Batman number that we calculate using multiple data points; our numbers for Batman are within 1/10 of 1% of each other, ensuring a high degree of accuracy.

For an analysis of the dollar trends in May, see 'Graphic Novel Sales Soar Again.'

For our estimates of actual orders to Diamond U.S. from comic specialty stores on comic books scheduled to ship during May, see 'Top 300 Comics Actual--May 2007.'

For our estimates of actual orders to Diamond U.S. from comic specialty stores on graphic novels scheduled to ship during May, see 'Top 100 Graphic Novels Actual--May 2007.'

For our estimates of actual orders to Diamond U.S. from comic specialty stores on comic books scheduled to ship during April, see 'Top 300 Comics Actual--April 2007.'

For our estimates of actual orders to Diamond U.S. from comic specialty stores on graphic novels scheduled to ship during April, see 'Top 100 Graphic Novels Actual--April 2007.'

For our index to our reports on the top comic and graphic novel preorders for January 2000 through May 2007, see 'ICv2's Top 300 Comics and Top 100 GNs Index.'