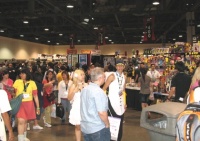 The 2007 Anime Expo, held at the Long Beach Convention Center in Long Beach, California last weekend and ending Monday, has yet to finish and provide final attendance figures, but so far looks slightly down from prior years when it was held in Anaheim, California.
The official AX attendance figure, at the conclusion of the third day, stands at 35,000+. This, compared to last year's total of 41,000 (see 'AX Finishes Up at 41K') indicates the move to Long Beach from Anaheim, due to scheduling conflicts at the Anaheim Convention Center, may have somewhat hampered attendance, with local hotels reportedly booked solid.
Given the situation, it seems show organizers handled the move back to Long Beach as well as possible, with many of the special events not in the Convention Center (see 'Anime Expo Using More Long Beach Facilities'). There weren't the problems that occurred back when the show was last held in Long Beach in 2002 (see 'Growing Pains at Anime Expo').
Still, retailers selling at the show felt the effect of fewer attendees, with Friday sales generally described as slow and Saturday much better, making up for the prior day. The feeling was that there were more exhibitors and sales were diluted among them.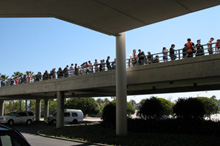 The exhibit floor had plenty of space, with the uncarpeted aisles busy but not overcrowded. There was a fairly long line of consumers waiting to get in as it seemed there were waves allowed, so as not to overload the Convention Center.
We heard at least one customer ask 'Does Viz have a booth?' at an information booth, which was probably not the only time similar questions were asked, as noticably absent from the show were the top three manga publishers: Viz, Tokyopop and Del Rey.
Overall, the feeling was that the quality of the show and special guests (see 'AX Gets Death Note Director, Character Designer') were excellent, but that being in Long Beach resulted in slightly lower attendance, with an accompanying impact on booth traffic.