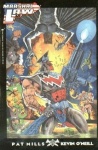 At the San Diego Comic-Con an excited Chris Staros told ICv2: 'Marshal Law is coming to Top Shelf and we are going to start off with a 500-page, full color omnibus of everything Marshal Law, which will probably be out next summer. We are trying to collect everything we can get the rights to and put it in a big omnibus and then go from there.'
Staros confessed: 'Brett (Warnock) and my favorite superhero title of all time is Marshal Law, it's been my secret passion,' -- and Staros definitely left the impression that he hoped to be able to publish some new Marshal Law comics once the omnibus edition was released.
Written by Pat Mills and illustrated by Kevin O'Neill, Marshal Law first appeared in 1987 under Marvel's creator-owned Epic banner, where it quickly established a reputation as one of the most subversive superhero books of all time with its savage portrayal of an ultra-violent American society and its scathing, thinly-veiled parody-portraits of conventional superheroes such as Public Spirit (Superman), Private Eye (Batman), and The Persecutor (The Punisher).
Marshal Law has had a checkered publishing career moving from Epic to the short-lived Apocalypse Comics in 1991, followed by stints at Dark Horse, a return to Epic, crossovers with various Image and Dark Horse characters and a stint on the CoolBeans Website.