At the San Diego Comic-Con Diamond Select Toys showed off a wealth of new items for 2008 including some potential blockbusters such as a Marvel Zombies: Venom vs. Spidey statue that is due out in January. 'Zombies are hot,' DST's Michael Leavey told ICv2. 'The Zombies were the bestselling Marvel Select figures we have had so far.'
DST's second series of Battlestar Galactica Action Figures will ship to retailers in early 2008 and will include the eagerly awaited Cylon Centurion along with Kara 'Starbuck' Thrace, Helo, and Louanne 'Kat' Katraine.
Diamond Select also plans to release its second series of figures based Stargate Atlantis. According to Leavey Stargate has been a real winner: 'Stargate has sold phenomenally well for us.' The second series of Atlantis figures, which is due out in 2008 will feature two versions (combat uniform and regular uniform) of Teyla Emmagan and Rodney McKay.
As far as Star Trek is concerned in 2008 DST will concentrate on developing its Deep Space Nine line after completing its STNG figures with a final assortment including Miles O'Brien, Nurse Igawa, and Ensign Ro Laren and putting out a second Wrath of Khan assortment that will include Captain Spock, Regula 1 Kirk, Lt. Savavik, and Lt.Uhura.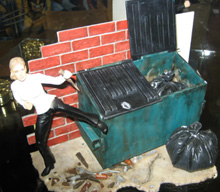 Leavey was also enthused about DST's new Buffy the Vampire Slayer figures, which Leavey called 'McFarlanesque' in their detail. The revamped Buffy line will include figures that come with several sets of legs so that they can execute intricate poses in an elaborate diorama that includes a dumpster with a lid that opens and closes.