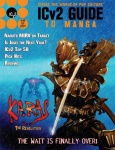 An ICv2 Release. ICv2 has announced the release of the ICv2 Guide #48: Anime/Manga, which is being released to the trade by Alliance Game Distributors, Diamond Comic Distributors, GTS Distribution, ACD, Bookazine, Lion Rampant, and others.
In the new Anime/Manga Guide ICv2 has reacted to the growing number of manga releases by breaking out the releases by month (the new Guide covers releases for December, January and February). With so many new series debuting ICv2 has endeavored to help retailers by singling out what we think are the top releases (your mileage may vary) with our 'Pick Hit to Click' designations. Wherever possible, ICv2 has also identified the country of origin and genre of all the new manga titles.
The new Guide also contains a beefed-up review section with reviews contemporary manga and anime series (including some that are debuting during the months covered by the Guide) by librarians, retailers and members of the ICv2 staff.
The new Anime/Manga Guide also includes third quarter anime and manga market reports, plus lists of the 'Top 25 Anime Properties' and the 'Top 50 Manga Properties,' as well as a survey of 'Asian Live Action Cinema' and an essay about the prospects of josei manga, which is targeted at older teen and adult females.
For more information on the contents of ICv2 Guide #48: Anime Manga see 'Naruto Salvo Hits the Mark.'
For those interested in subscribing to the
ICv2 Guide
, please visit the ICv2 Online Store (click here). Or if you are interested in ordering a single copy of the
ICv2 Guide #48: Anime/Manga
, please click here. For pop culture related retailers, if your distributor is on