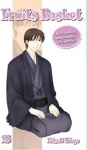 Volume 18 of Natsuki Takaya's Fruits Basket, the bestselling shojo manga in North America, shot right to the top of the BookScan list of graphic novels sold in bookstores for the week ending November 18th. Fruits Basket fans are evidently eager to get their hands on the next installment of the series, which typically debuts at the top of the BookScan list and sells a high percentage of its annual sales during its first few weeks of release.
The title that Fruits Basket displaced, Naruto Vol. 24, slipped to #2 after two weeks at number one. Altogether there were four volumes of Naruto in the top ten on BookScan and eight Naruto titles in the top 25. Naruto Vol. 13 remains the top-selling graphic novel of 2007 in terms of units and Masashi Kishimoto's ninja saga remains the number one manga property in the U.S.
The top-selling graphic novel (in dollars) for the past two weeks is Marvel's Dark Tower: The Gunslinger Born, the hardcover adaptation of the Stephen King novel, which remained in third place (in unit sales) for the second straight week. Meanwhile DC's Heroes collection moved into the top ten at number 7 and Alan Moore's League of Extraordinary Gentlemen: Black Dossier (from DC's Wildstorm) debuted at #13. Dark Horse's Buffy the Vampire Slayer: Season 8, which finished at #16, was the only other non-manga release in the top 25. Top Cow's Darkness (at #38), Alan Moore's Watchmen (at #45) and DK Publishing's Marvel Encyclopedia (at #49) were the only other western format graphic novels in the top 50.
Other manga titles in the top ten include Yun Kouga's Loveless Vol. 7 (from Tokyopop), which soared to #6, Viz Media's Yu-Gi-Oh! GX Vol.1 at #8 and Tokyopop's Chibi Vampire Vol.6 at #10.
For those who doubt the effect of anime showings on the Cartoon Network's Adult Swim -- take a look at the performance of Viz Media's Death Note. The best-selling first volume in any manga series that has already released multiple volumes is Naruto Vol.1, which has also sold more copies in bookstores so far in 2007 than any new #1 released this year -- yet since the Death Note anime debuted on the Cartoon Network on October 20th, the first volume in the 12-volume Death Note series has outsold Naruto Vol.1, and all 12 volumes of Death Note have made it into the top 100 on BookScan.