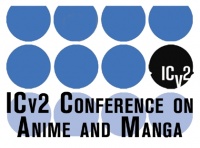 Panelists at the ICv2 Conference on Anime and Manga (see 'ICv2 Conference on Anime and Manga') held at the Jacob Javits Center in New York City on the eve of the first New York Anime Festival engaged in a series of spirited and occasionally contentious discussions on the future of the anime and manga industries. Al Kahn, CEO of 4Kids Entertainment, who famously said 'Manga is a problem because we are in a culture that is not a reading culture,' at ICv2's Graphic Novel Conference in 2006 (see 'Manga Is a Problem'), played the role of the provocateur once again, stating that 'Japan is over.....' 'Manga is dying in Japan,' he said, and continued by contending that Japanese TV anime was 'tired' and in 'the doldrums' with fewer half-hour shows being produced, and that many of the new series were 'too derivative.'
Rich Johnson of Yen Press replied that the manga market was cyclical in Japan, and though it might be a down phase, it was still a billion dollar industry and the envy of comic book publishers around the world. Johnson also maintained that sales of manga and graphic novels continued to grow in the U.S., where 'there has never been a richer time for graphic novels.'
Kahn, who shepherded Pokemon and Yu-Gi-Oh! to major mass market successes, pointed out that for him, unless a property could spawn a massive amount of merchandise, it simply wasn't worth doing. Gen Fukunaga of FUNimation Entertainment stepped in and said that both Rich Johnson and Al Kahn were right from their own perspectives -- on the one hand the niche market for manga is expanding in North America at a steady rate, but on the other hand in the past few years Japan has not been able to produce a new property that has enjoyed mass market success here that can compare with the track records of Pokemon, Dragonball Z, Yu-Gi-Oh! or Naruto.
Before the panel discussions began ICv2 CEO Milton Griepp delivered a white paper on the state of the manga and anime industries in North America, which showed the two highly inter-related products of Japanese popular culture were heading in opposite directions. Manga, which according to Griepp doubled from $100 million (retail dollars) in 2003 to $200 million in 2006, continues to grow though at a slower pace -- down from 67% year-over-year growth in 2003 to 14% in 2006. Griepp also noted that preliminary figures from 2007 indicate that the manga market here is expanding at a rate of about 10% (though final figures won't be available until early 2008).
Griepp also pointed out that the number of manga releases is growing at a faster pace than the retail dollars with an estimated 1731 volumes of manga projected for release in 2008 versus 1468 in 2007. Manga's situation contrasts with anime where both the retail dollars and the number of releases are expected to decline in 2007 for the second year in a row.
According to the panelists in the first panel discussion, 'Marketing to the Otaku Generation' the Internet has played a major role in both manga's rise and anime's decline. Rich Johnson noted that scanlations of manga titles have helped to raise interest in manga titles and have taken on a marketing role similar to that of fansubs in the early days of the anime boom. But as Gen Fukunaga pointed out, fansubs are now a major problem with subtitled versions of new Japanese anime series often available within a week of their first airing in Japan. Chris Macdonald of Anime News Network stated that in his opinion, the core anime community has split into two groups: the collectors, who want to own the authorized DVDs of their favorite series, and a much larger group, the consumers, who just want to watch as much anime as they can for free.
The problem of how to deal with illegal downloading dominated both the 'Marketing to the Otaku Generation' panel and the final 'Technology and the Otaku' discussion. Viz Media's Senior VP Liza Coppola noted that Viz had begun selling downloads of the Death Note anime at the same time that the series was airing in Japan, while Daniel Marks, Viz Media's Senior VP of Strategy and Business Development noted during the Technology panel, that it is difficult to cut lag time any more than Viz did with Death Note because typically the anime companies in Japan don't deliver episodes until right before they air on Japanese TV.
Lawrence Neves, the Editorial Director of Pokemon USA, who has the luxury of dealing with a property that skews to a younger audience where downloading is less of a threat, stated that it would be difficult to produce American versions of Pokemon episodes in less than a six month period.
During the technology panel there was general agreement with the assessment of Tokyopop's Director of New Product Development Jeremy Ross, who stated 'Piracy is not going away, for every BitTorrent site you shut down, five will pop up.' There was also remarkable consensus on the best solution to the piracy problem -- as Viz Media's Marks pointed out 'companies will have to find a way to deliver anime episodes simultaneously with their release in Japan at a price people will support or the anime industry is in serious trouble.'
If the solution is clear, the business model to get there isn't. Earlier Gen Fukunaga noted that by co-producing anime series, American companies can have more of a say in how and when the shows actually reach these shores. But, convincing Japanese anime companies to support major changes in production and distribution is no simple matter especially when no one is exactly sure what the delivery systems of the future will look like.
While it is likely that some sort of Internet delivery mechanism will be necessary to accomplish these ambitious goals, it still remains to be seen whether it will be ad-supported or fee-based. Peter Heumiller, VP of Content Development of Comcast, sees the future of anime and many other forms of visual entertainment in some sort of non-linear delivery, which probably includes the Internet, with its bandwidth greatly expanded, as the primary mechanism. But the best means of delivery for anime remains to be decided -- and the same is true of manga as well--though the general consensus was that the book format would continue.
Still manga is not immune to change, as has been demonstrated by the explosive growth of digitally delivered manga in Japan. John Nee, Senior VP of Business Development at DC Comics talked about the ways in which DC's Japanese partner Flex Comics delivers manga to both computers and cell phones, while Tokyopop's Ross argued persuasively that the best means of delivering manga electronically, whether by a full page with zoom features or one panel at a time, was not yet altogether clear.
Interposed between the first and last panels, which were united thematically by their focus on dealing with the problems of piracy and the possible ways to monetize digital delivery, was an equally interesting panel discussion of the role of the female audience in the growth of the manga and anime market in North America moderated by Larissa Faw, Editor of Youth Markets Alert. Librarian Nola Thacker of the Suffolk County, New York Library system spoke eloquently about working with young readers and the enthusiasm they developed for reading manga of all types, while Dallas Middaugh of Random House and Kurt Hassler of Yen Press (and formerly of Borders) talked about the importance of the bookstore venue in the development of the bookstore audience. Hassler also pointed out that the concept that there was some sort of conflict between American comics and manga was overblown, and that the success of manga had made it much easier to get more American graphic novels into the bookstore market
Lillian Diaz-Przybyl, Senior Editor for Original Global Manga Development at Tokyopop, stressed the importance of the art in shojo manga in attracting a female audience and Viz Media's Elizabeth Kawasaki noted that shonen titles such as Naruto, Bleach and Death Note attracted a high percentage of female readers.
FUNimation's Jill Snider had some interesting insights on the reason that there are so many more shonen anime series on TV in the U.S., recounting conversations with TV programmers who told her that they were just interested in boys from 9-14, since that was the demographic that their major advertisers wanted to reach.