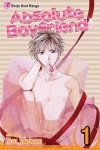 WLTX, the CBS outlet in Columbia, South Carolina, is reporting that a Books-a-Million outlet in Lexington, South Carolina has decided to move its manga section away from its children's book section after a customer, Sandra McWaters, complained that her son picked up a copy of Yu Watase's Absolute Boyfriend, which contained a drawing of a 'naked boy.' In response to the complaint, Jeff Skipper, VP of Marketing for Books-a-Million told WLTX: 'We have taken a look at the proximity of our manga department and kids department and have decided to relocate the manga department to another area of the store.'
Absolute Boyfriend, which is published by Viz Media, is a shojo (girls')manga that is age-rated 16+. It is the obverse of all those shonen 'robot girlfriend' manga like Video Girl Ai, and the 'naked boy' in question is a robotic boyfriend that a shy girl has ordered online for a free trial. The drama is this shojo romance comes from the jealousy of the girl's neighbor and childhood friend, who loves her, but who has been too shy to confess his affection.
Books-a-Million is the third largest book retailing chain in the U.S. It currently operates more than 200 stores in 19 states and the District of Columbia. Books-a-Million, which has numerous outlets in the American south, has been expanding the manga section in its stores and has become an increasingly important venue for manga sales.