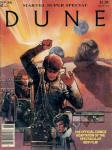 MTV.com is reporting that Peter Berg, director of The Kingdom, is set to helm a new adaptation of Frank Herbert's science fiction classic Dune. Berg told MTV that plans for him to direct the film were 'a done deal,' and 'if it weren't for the writer's strike, we would be in it right now.'
Berg told MTV that there is no script for the film now, but fashioning one will be a major priority once the strike is over. Berg also indicated that the new Dune would be a major production with a large budget.
While declaring himself a 'big David Lynch' fan, Berg told MTV that he thought that Lynch's controversial 1984 adaptation of Dune 'left the door wide open for a remake,' a sentiment that many fans of Herbert's novel, which was also adapted into a mini-series which aired on the Sci Fi Channel, would probably agree with.
Lynch's big budget 1984 adaptation spawned a mass of tie-in merchandise including a Marvel Comics' movie adaptation and limited series (illustrated by Bill Sienkiewicz), lots of 'making of' books and an extensive series of toys from LJN.