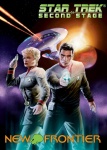 IDW Publishing has unveiled an ambitious slate of Star Trek comic book titles for 2008, which the publisher has dubbed Star Trek: Second Stage. New Star Trek publishing initiatives include bringing Peter David's highly originally New Frontier continuity to the realm of monthly comic books, bringing in veteran Star Trek scribe D.C. Fontana to beef up IDW's Star Trek: Year Four series, getting comic book icon John Byrne to create his first Star Trek comics, and resurrecting the Star Trek Mirror Universe in a new series written by Chris Ryall and the Tipton brothers, Scott and David.
In March IDW is publishing the first in a five-part Star Trek: New Frontier series written by Peter David and illustrated by Stephen Thompson that brings the original continuity that David created for his series of Star Trek novels for Pocket books to the world of monthly comics for the first time (Wildstorm published a New Frontier graphic novel, Double Time in 2000).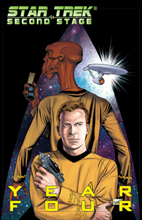 A month later IDW will issue the first Star Trek comic written by D.C. Fontana, who wrote numerous episodes for Star Trek TOS including 'Tomorrow is Yesterday,' 'Friday's Child,' and 'Journey to Babel,' as well as the pilot for Star Trek: The Next Generation. For IDW's Star Trek Year Four (which chronicles the untold stories of the fourth year of the original Enterprise's five-year mission) Fontana is writing the continuation of one of her most celebrated episodes, 'The Enterprise Incident,' in which Captain Kirk goes undercover to steal the latest Romulan cloaking device.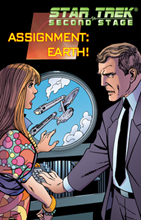 John Byrne's first Star Trek comic, the last issue of IDW's Alien Spotlight series, which focuses on the Romulans, will be out in February, but Byrne returns in May with an all-new five-part time-jumping Star Trek: Assignment Earth series. The 'Assignment Earth' episode was the finale of Season Two of The Original Series and Star Trek creator Gene Roddenberry had originally intended to spin off the saga of the enigmatic character of time-traveler Gary Seven into a new TV series -- something that never happened of course, until John Byrne decided to take the matter into his own capable hands.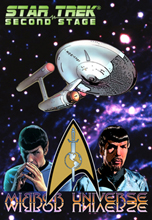 In June IDW will launch the four-part Star Trek: Mirror Images series written by IDW EIC Chris Ryall and Scott and David Tipton (Klingons: Blood Will Tell). Based on the 'Mirror, Mirror' episode this series will fully engage The Mirror Universe, one of the most popular themes in the Star Trek canon. A second Mirror Images series, focusing on the Next Generation crew, is slated for the second half of 2008.