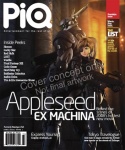 Retailer and all-around comics, graphic novels, and manga maven Christopher Butcher of The Beguiling in Toronto obtained a media kit for PiQ, ADV's successor to Newtype USA, and wrote a very astute and thorough analysis of the magazine on his consistently informative Comics212 blog. Newtype USA, which was licensed from the Japanese publisher Kadokawa, will cease publication with its February issue (see 'Newtype USA Ending'). PiQ (pronounced 'peek'), which will debut on March 18th, has a smaller format (8x10 vs. 9x12), fewer pages (130 vs. 160) and a lower price point ($6.99 vs. $12.98). Also unlike Newtype USA, PiQ will be perfect bound and will read in the traditional Western left-to-right format).
But as important as the changes in physical format are the changes in content, which represent a considerable broadening of focus. While Newtype USA has long included actual manga excerpts and has recently been devoting ever more space to covering new manga releases, its primary focus has always been on anime. In contrast, equal 20% shares of PiQ's editorial direction will be parceled out to Anime, Gaming, U.S. Comics/Japanese manga, and Genre Movies/TV/Home Video. The remaining 20% of the magazine's focus will go to Toys/Collectibles (10%), Gadgets/High Tech Gear (5%), and Lifestyle (Fashion, Accessories, Events -- 5%). While video games have received some coverage in Newtype USA, the emphasis on U.S. comics and genre movies/TV/home video represents a new direction.
Other interesting facts mentioned in the media kit include the expected gender breakdown of the magazine's readership (70% male, 30% female), the number of subscribers it is inheriting from Newtype USA (15,000), the number of copies PiQ will launch with in March (100,000) and the target circulation by Q4 of 2008 (150,000).