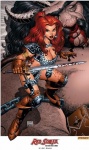 Paradox Entertainment and Red Sonja LLC have settled their dispute over the character of 'Red Sonja/Red Sonya.' The dispute began after Paradox, which already owned the rights to Conan the Barbarian, acquired rights to the rest of the characters created by the legendary Robert E. Howard (see 'Paradox Picks Up Kull & Co.'). Howard, who created Conan the Barbarian who ruled the antediluvian world of Cimmeria in the ancient (fictional) Hyborian Age (14,000-10,000 B.C.), also created the character of a gun-toting Renaissance-era pirate named Red Sonya in his story 'The Shadow the Vulture.'
In the 1970s Roy Thomas and Barry Windsor-Smith, who were working on Marvel's licensed Conan the Barbarian comic, created the character of Red Sonja (note the slight spelling difference), a sword-wielding female contemporary of Conan who was only loosely based on Howard's heroine, first appearing in Conan #23. After Paradox acquired the rights to the Robert E. Howard library (although apparently the copyright for 'The Shadow of the Vulture' was not renewed and therefore in dispute), Red Sonja LLC filed suit in a Delaware court to establish its rights to the Red Sonja character (which it had licensed to Dynamite for the Red Sonja comic book series).
The settlement, which was reached out of court, provides that Red Sonja LLC has acquired Paradox's rights to Robert E. Howard's short story 'The Shadow of the Vulture,' and that Paradox has acquired an exclusive license to reprint 'The Shadow of the Vulture.'
Paradox now recognizes and endorses Red Sonja LLC's exclusive ownership of the Red Sonja trademark, regardless of spelling, while Red Sonja LLC endorses Paradox's exclusive ownership of Hyboria, subject to Red Sonja's continuing license to place its Red Sonja character in Hyboria.