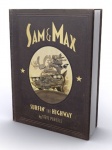 Telltale Games' Sam and Max collection, Surfin' the Highway, will be back from the printer in late February. The 197-page 6.5' x 9.25' trade paperback includes the contents of the original 1995 edition plus 25 pages of new content, including previously unpublished comic stores and art. The book also features a new cover.
A Telltale spokesperson told ICv2 that the book would be released to the comic channel first, with book channel distribution to follow later this year.
Among the stories that were in the 1995 edition are 'Monkeys Violating the Heavenly Temple,' the story that started it all 20 years ago, 'Bad Day on the Moon,' and 'On the Road,' the inspiration for the 1993 LucasArts Sam & Max videogame. Forty-five pages of the book are in full color.
Telltale Games publishes the episodic Sam & Max videogame series. The property is also featured in an Eisner-nominated Webcomic (a delivery method that can power high sales, as it does, for example, for Megatokyo and Penny Arcade). And Shout is releasing a DVD collection of the Sam & Max animated series in March (see 'Sam & Max DVD in March').