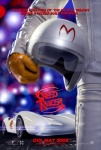 Warners is expecting over $80 million in extra marketing support for its Speed Racer feature, due out in May, from promotional partners and licensees according to Variety. General Mills will put Speed Racer on its cereals, Betty Crocker cookie mixes, Old El Paso Mexican foods and Fruit Gushers. Target, the film's official retail partner, will run in-store ads and circulars and offer a gift card that gives access to exclusive film footage. McDonald's will offer Happy Meals for both boys and girls.
Some of the promo partners will appear in the film. Autobacs, Topps, and Cheerios all have branded raced cars in the film, according to the report.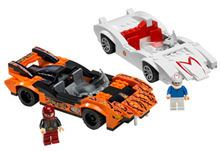 Licensees will also get into the act. Lego will support its four playsets, Puma its Speed Racer shoes, and Mattel its line of toys (see 'Mattel Lands Speed Racer'). And, of course, three different comic versions are being released this year (see 'Speed Racer Times Three').