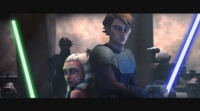 The Star Wars saga will return to the big screen in a different format as the animated Star Wars: The Clone Wars feature film will debut in theaters on August 15th. The animated feature film, which was produced by Lucasfilm Animation and features state-of-the-art computer animation, heralds the arrival of the new Star Wars: The Clone Wars animated television series (see 'Lucas Self-producing 100 Animated Episodes'), which will debut this fall on the Cartoon Network and the TNT cable networks. So far Lucasfilm Animation has produced more than 30 thirty-minute episodes of the new Clone Wars series. New episodes will debut on the Cartoon Network and will have repeat showings on TNT.
Each thirty-minute episode will function as a 'mini-movie' with a self-contained narrative that ties in to the overall Clone Wars saga. The series will include familiar Star Wars characters such as Anakin Skywalker, Obi-Wan Kenobi, and Padme Amidala along with brand new characters like Anakin's padawan learner, Ahsoka, as well as those great Star Wars villains such as Emperor Palpatine, Count Doku and General Grievous.
Interestingly Lucasfilm is partnering with Warner Bros. for the theatrical distribution of the Star Wars: The Clone Wars movie rather than Fox, which has been the Star Wars studio from the very beginning of the saga. Warner Bros.' familiarity with the distribution of animated films and its corporate connections with the Cartoon Network and TNT undoubtedly played a major role in Lucasfilm's decision.
The return of Star Wars to both the big and small screens is good news for Hasbro with its extensive line of Star Wars toys, Dark Horse with its stable of Star Wars comics, Wizards of the Coast and WizKids with their Star Wars games, and numerous other companies that produce tie-in Star Wars merchandise.