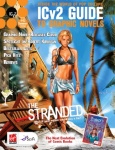 An ICv2 Release. ICv2 has announced the release of ICv2 Guide #52: Graphic Novels, which includes an analysis of what went on in the market in 2007 and a look ahead to the key releases of spring and summer 2008 in all the major graphic novel categories, reviews by noted librarians and the ICv2 staff, as well as a profile of Robert Kirkman, the writer of the popular Walking Dead, Marvel Zombies and Invincible comic book series.
For the first time the new ICv2 Guide includes a list of the bestselling properties in all the major graphic novel categories including "Manga," "Superhero," "Humor," "Non-superhero Genre," "Fiction & Reality" (literary comics), and "Kids & Tweens." ICv2 has also singled out new titles deemed most likely to succeed in six different categories with its "Pick Hits to Click" designation.
ICv2 is the undisputed expert in the graphic novel field and publishes news and information on pop culture products in the anime, comics, games, toys, and movie and TV merchandise categories daily on its Website, ICv2.com, and in its magazines, the ICv2 Retailers Guide to Anime/Manga, the ICv2 Retailers Guide to Graphic Novels, and the ICv2 Retailers Guide to Games. ICv2 also provides marketing, distribution, and general business consulting services to companies involved in the pop culture products industries.

For those interested in subscribing to the ICv2 Guide, please visit the ICv2 Online Store (click here). Or if you are interested in purchasing a single copy of the ICv2 Guide #52: Graphic Novels, please click here. For pop culture related retailers, if your distributor is on the list above, just ask for your free copy of the Guide; or if not, e-mail Dennis Viau at our office at dviau@icv2.com to request a copy (valid pop culture related retailers only please).