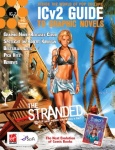 According to the newly released ICv2 Guide #52: Graphic Novels the number of graphic novels released in the North American market in 2007 was 3,314, a 19% increase over the 2,785 volumes published in 2006. All indications are that the tsunami of graphic novels will only increase in 2008, further fueling the competition for shelf space in bookstores and comic shops that one longtime graphic novel publisher described to ICv2 as "brutal." The number of releases is so high that one direct market retailer admitted that he ordered all but the very top tier of manga titles "like periodicals to sell out quickly, rather than like graphic novels that we intend to keep in stock."
The plethora of graphic novel releases hasn't depressed sales yet -- by all accounts 2007 was a solid year for graphic novel sales in both the direct and bookstore markets. Frank Miller's 300, which was aided by the sterling performance of Zack Snyder's movie adaptation, was the bestselling graphic novel of 2007 in both units and dollars. Manga continued to dominate graphic novel sales in bookstores, though American-style graphic novels led by 300 and some high profile projects such as Civil War, 52, LOEG: Black Dossier, Dark Tower, and Anita Blake helped non-manga titles increase their share of the bookstore market.
Looking ahead to 2008, the ICv2 Graphic Novel Guide singles out the top spring and summer releases in all the top graphic novel categories. The new Guide also examines the graphic novel sales drivers that will be in play in 2008, the movies, the video games, the popular fictional titles that will be adapted into graphic novels.
The new Guide to Graphic Novels also contains reviews by noted librarians and the ICv2 staff, including reviews of a number of upcoming releases including Flight Explorer Vol. 1 (March), Life Sucks (April), and Batman: Resurrection of Ra's Al Ghul (May).
For more information on obtaining the ICv2 Guide #52: Graphic Novels, which is free to retailers and also identifies the best prospects from the hordes of graphic novel releases set for October, November and December, see "ICv2 Releases 'ICv2 Guide #52: Graphic Novels.