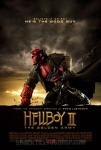 Universal Pictures has inked a three-year production and distribution agreement with Dark Horse Entertainment that will establish Universal as the home for all Dark Horse characters and properties as well as any material Dark Horse would acquire on its own to develop as a motion picture. In addition, under the terms of the pact, Dark Horse will have the opportunity to distribute movies through Universal.
Universal is releasing three major comic book-based films this summer: Hellboy II, which is based on the Dark Horse comic created by Mike Mignola; Wanted, which is based on the Top Cow miniseries by Mark Millar and J.G. Jones; and The Incredible Hulk, which is being produced by Marvel Studios (because Universal produced Ang Lee's Hulk, it, not Marvel Studio's normal distributing partner, Paramount, gets to distribute the new Hulk movie). For Universal the deal with Dark Horse locks up a key source of pop culture properties, something that Universal has been quite aggressive about lately, witness the studio's recent pact with Hasbro (see "Magic, Monopoly Movies on Tap").
For Dark Horse the pact not only provides a natural studio partner that will likely pave the way for more films based on Dark Horse properties, it also provides access to Universal's excellent distribution system for projects that Dark Horse might decide to produce independently.