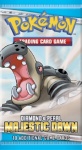 Pokemon USA has announced the May 21st release of Pokemon TCG: Diamond & Pearl-Majestic Dawn, a 100-card expansion for the popular game that includes more new Pokemon, new Pokemon LV.X, a new Pokemon Stadium card, and two new powerful evolutions of the popular character Eevee.
The Majestic Dawn Expansion will be available in two 60-card theme decks, Polar Frost and Forest Force, each of which includes a guaranteed foil card and retails for $11.99, and in 10-card boosters (MSRP $3.79). The theme decks are designed for beginner and intermediate players, while the boosters are for players and collectors of all ages.
Among the powerful, strategy-modifying cards in the Majestic Dawn Expansion are the Garchomp LV.X and the Porygon-Z LV.X, the legendary Pokemon Darkrai card and the rare Pokemon Cresselia, plus two powerful new evolutions of Eevee, Leafeon and Glaceon, which brings the total number of Eevee's evolutions to seven.