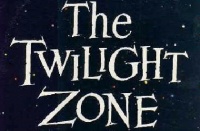 Walker Books is launching a series of eight graphic novels based on classic episodes of Rod Serling's The Twilight Zone. The first two volumes will be out in September, just one year shy of the show's 50th Anniversary. Mark Kneece, who has written for Marvel, DC and Kitchen Sink Press, is adapting the episodes, all of which were originally written by Twilight Zone creator Rod Serling, and the graphic novels are being illustrated by artists from Savannah College of Art and Design's Sequential Arts Program.
The first two graphic novels adapt two first season episodes, Walking Distance (from October 30th of 1959) and The After Hours (from June 10th of 1960). The 72-page, full color graphic novel adaptations are based on the original, unedited scripts and will retail for $9.99.
Walking Distance, which is illustrated by Dove McHargue, is one of the most personal of all Serling's scripts for The Twilight Zone. It revolves around Martin Sloan, a successful middle-aged man who attempts to re-enter the world of his childhood, (which is based on Serling's hometown of Binghampton, New York).
The After Hours, which is illustrated by Rebekah Issacs, is the story of a woman trapped inside a department store where the mannequins come to life once the store is closed.