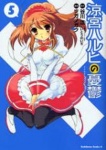 Yen Press has announced the acquisition of The Melancholy of Haruhi Suzumiya manga series, which is based on the bestselling series of light novels by Nargaru Tanigawa and should benefit from the worldwide cult following earned by the Haruhi Suzumiya anime. Yen Press Co-Publishing Director Kurt Hassler told ICv2: "You get a lot of speculation about what's going to be the next Naruto, the next Fruits Basket in the market, and the reality is that everyone has known that Haruhi is the next A+ license. We just couldn't be more excited that it's going to be published by Yen Press."
The series is drawn by Gaku Tsugano using character designs created by Noizi Ito, who illustrated the series of 10 Haruhi Suzumiya novels.
Hassler told ICv2 that (so far) Yen has licensed the first four volumes of the on-going Haruhi manga series (Vol. 5 has just been published in Japan), The company plans to publish the first volume in October and it will include both full color and black-and-white illustrations. Subsequent volumes will be released at four month intervals. Yen Press is planning a major promotional push for the series including poster giveaways at the New York Comic Con as well as giveaways at Comic-Con International in San Diego.
When asked about the ecchi elements in the manga, Hassler first categorically ruled out making any changes ("We don't censor our manga; we don't do that.") and then explained: "There are a few ecchi bits--it's not necessarily overtly sexual in nature, but Haruhi is quite unrestrained when she wants something, I don't know if you can describe it as ecchi so much as a blatant disregard for anyone else's personal boundaries." Hassler confirmed that the manga series will receive an "Older Teen" (16+) age rating.
Hassler told ICv2 that The Melancholy of Haruhi Suzumiya is the "#1 license in Japan where the first four volumes of the manga have sold over a million and a half copies. Bandai Entertainment released the first Haruhi Suzumiya anime series, which was produced by Kyoto Animation (the hot anime studio in Japan right now), last spring, and without benefit of any TV exposure, the series quickly became one of the top properties in the North American market. A second Haruhi anime series from Kyoto Animation has been announced in Japan and will no doubt make it to these shores.