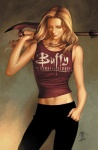 Dark Horse revealed its plans for the Buffy the Vampire Slayer series through the end of the year at New York Comic Con. Following the four-issue Fray story arc (written by Whedon), which begins in July, Dark Horse will publish a Jeph Loeb issue based on ideas from the Buffy animated series (which was never produced).
Buffy "five by five," featuring five different issues by five different creators, will then kick off in December. Whedon will pick the creators and supervise the story, which will be written by Drew Greenberg, Doug Petrie, Jane Esponson, Stephen DeNight, and Jim Krueger.

Dark Horse is also planning a Buffy Tarot Deck.