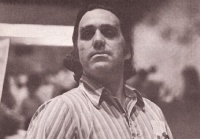 A panel to recall Phil Seuling and his early New York comic conventions, the first conventions with a national draw, was held in conjunction with the 2008 New York Comic Con. ICv2's Milton Griepp moderated the panel with film producer Michael Uslan; Greg Goldstein, most recently VP-Entertainment at Upper Deck; Diamond's VP Purchasing Bill Schanes; and DC Comics CEO and Publisher, Paul Levitz. In Part 2, Levitz wraps up the "first convention" recollections, and a discussion is held to properly place the dates of the convention. In Part 3, panelists share their favorite New York comic convention moments. In Part 4, panelists place the early New York comic conventions in the history of the medium and the business. And in Part 5, the panelists continue the discussion of the events in a historical context, and answer a question from the audience. In Part 1, Griepp introduces the panel, kicks off with a favorite Phil Seuling story, and asks the panelists about their first New York comic convention experiences.
Paul Levitz:
This is the illustration, my favorite of Phil, from his convention ad. And the copy read, "There are other people who can offer you a selection of comics and posters, but can they offer you arrogance?" That really was the heart of his soul.
Phil was a high school English teacher, passionately energetic about his students and about the language, and in love with comics. There are photos of him showing up with his wife at one of the earliest New York conventions dressed as Captain Marvel and Mary Marvel. He was a fairly ungainly Captain Marvel, even at that point in his life, although a little slimmer than by the time this photo was taken.
Most of what we think of as a comic convention now emerged in his head. The auction—he was the auctioneer himself for most of that time, exhorting people, humiliating people, arguing with people about what they were willing to bid to get that price up to that $40 or maybe a year or two later, $100 for Action #1. He cajoled folks into all of it.
I had started doing a fanzine with my friend Paul Kupperberg as kids, and maybe two months into doing our fanzine, we got a note scribbled back from Phil inviting us to have a free table, a fanzine table at the convention so that people like Greg, who were starting fanzines, Gary Groth, Denis Kitchen, many people whose names are forgotten by anybody but us old fans, would just send bundles of their fanzines and we would sell them, not as a for-profit venture, but just to try to connect people together. And that's how I started off on the convention committee and then a couple of years later I got drafted into doing the program books for several years, which was a great educational experience. I learned a lot about printing, got yelled at by people like Jim Warren, who knew far more about it and had a quote, unquote "higher standard" for doing these things.
In New York in those days it was very common for the Jewish and Italian working class families to decamp to the Catskills for the summer, and when I found out about the New York comic con in probably 1969 or 70 from house pages in the comics, I couldn't talk my folks into postponing leaving for a week. It was just ridiculous that they would give up a week's vacation for a comic convention. Finally in '71 when I started doing the fanzine, I was able to talk them into going over July 4th weekend so I could have at least two days at the convention, and that became my first time through. And the program book for that year was done by Sal Quartuccio, who probably still has a table in the room [this year]. He was then doing Phase, one of the early fanzines, and later Sal Q Productions.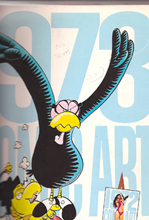 Levitz:
Here's the 73 program book, which was the first one I worked on. I found my printing notes from the program book for the '73 Con. We printed 5,000 copies. We had had about 3,000 people at the New York con the year before, which amazed us. How in the world could there be more than 3,000 people who actually care about comic books? But we gambled and printed 5,000. Phil liked having some back copies to sell to people as part of his assortment, and put a lot of love into the project. By the next year we were up to 10,000 copies.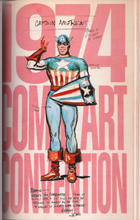 Here's Joe Simon's original drawing from Captain America [1974].
Bill Schanes:
That was on Phil's wall in his house for many years.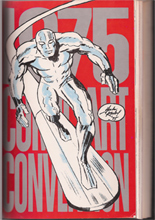 Levitz:
And my last one, the 1975 book, again at about 10,000 copies.
What Michael was reading about the rooms at the Statler Hilton is actually the secret of why the conventions were born and died. The deal you did that made the convention possible in those days, whether it was Creation Con or New York Con, was a room night deal. You got all the space free in exchange for a certain number of room nights with people actually paying for the rooms. The New York Con was particularly good for that because people like Bill would come in and pack themselves four to a room.
Schanes:
Four? Such luxury. But the bathtub was always good for one person right there, so it was not a problem.
Levitz:
And that would pay for the convention. When that stopped being a viable economic deal because the conventions were too large to fit the available hotel ballrooms that they would give you free for it, and New York started to have more of a tourist industry as we moved into the late 1970s, they weren't going to give that to you for free anymore. That destroyed the economic model. That's why Phil decamped to Philadelphia for a number of years, and the New York Cons went away until this recent madness.
Milton Griepp:
So when was the last New York show?
Levitz:
I think the last one was 1983?
(Discussion with the audience—1983 is decided upon.)
Griepp:
We have programs from '71, '73, '74, '75, '79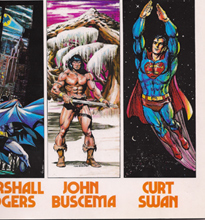 Levitz:
I thought the '79 one was an interesting one, kind of sad. Here are three greats of the field who were the Guests of Honor that year, and we've just lost all three, including the relatively young Marshall Rogers, who was the hot young talent of the time. Buscema and Swan, who were probably at the peak of their careers on assignments like Conan and Superman…
Schanes:
True professionals.
Levitz:
I did the Curt Swan article for that book, which was why I had a copy fairly handy.
Griepp:
So the first New York comic convention was 1964?
Uslan:
The first convention was 1964, and I think Phil took over in 1968, if I'm not mistaken.
Levitz:
That sounds about right
Griepp:
What was the period for the monthly events?
Levitz:
'71, I think.
Greg Goldstein:
It's either very late '71 or early '72. If not the first, I was at the second one.
Levitz:
I had a table for all the early ones.
Goldstein:
There are so many people who are still in the business one way or another from those days. I was next to a guy named Jerry Ohlinger who still has his archival shop of movie stills and what have you in New York. Somehow I always ended up near Jerry, if not next to him. That was usually a good location from a retail standpoint, but Jerry played 16 millimeter trailers of all the James Bond movies and some sci fi movies; and the stuff would be ringing in your head; and it would take the full month between the monthly shows before it went out of your head; and then you'd be back at the show and then it would be back in your head again.
I think he moved his shop recently.
Uslan:
He's by the the Waverly theater, somewhere around W. 4th., somewhere around there.
Levitz:
The old one down in the basement isn't there any more.
For Part 3, click here.