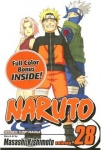 Naruto Vol. 28 held the top spot in the monthly Top 20 Graphic Novel rankings for April. The rankings, provided by Nielsen BookScan, track the bestselling U.S. graphic novels in major book chains, mass merchants, online retailers, and some independent bookstores using POS data from March 31st to April 27th. The over-all popularity of the Naruto property dropped a bit in April, however, from overwhelming (six Naruto titles in the Top 20 last month, see "Bookscan's Top 20 Graphic Novels for March") to merely dominating (four Naruto titles in the Top 20 in April).
Manga maintained its share of the Top 20, with 18 out of the top 20 titles. Viz Media had 16 of those 18 manga slots, behind Naruto (four volumes), Death Note (three), Vampire Night (three), Pokemon (one), and several other properties. Tokyopop (Fruits Basket) and Del Rey (Fairy Tail) each had one manga volume in the Top 20.
Top 20 Graphic Novels 3/31 - 4/27/08
Rank

Title

Author
Pub
PubDate
1
NARUTO VOL. 28
KISHIMOTO MASASHI
VIZ
3/1/08
2
VAMPIRE KNIGHT VOL. 4
HINO MATSURI
VIZ
4/1/08
3
FRUITS BASKET VOL. 19
TAKAYA NATSUKI
TKP
3/1/08
4
BATMAN: THE KILLING JOKE
MOORE ALAN
DC
3/1/08
5
HANA-KIMI VOL. 23
NAKAJO HISAYA
VIZ
4/1/08
6
DEATH NOTE VOL. 1
OHBA TSUGUMI
VIZ
10/1/05
7
VAMPIRE KNIGHT VOL. 1
HINO MATSURI
VIZ
1/1/07
8
FULLMETAL ALCHEMIST VOL. 16
ARAKAWA HIROMU
VIZ
3/1/08
9
DEATH NOTE HOW TO READ VOL. 13
OHBA TSUGUMI
VIZ
2/1/08
10
NARUTO VOL. 27 W/ STICKER
KISHIMOTO MASASHI
VIZ
12/1/07
11
DEATH NOTE VOL. 2
OHBA TSUGUMI
VIZ
11/1/05
12
NARUTO VOL. 26
KISHIMOTO MASASHI
VIZ
12/1/07
13
WATCHMEN
MOORE ALAN
DC
4/1/95
14
VAMPIRE KNIGHT VOL. 3
HINO MATSURI
VIZ
10/1/07
15
FAIRY TAIL VOL. 1
MASHIMA HIRO
DEL
3/1/08
16
VAMPIRE KNIGHT VOL. 2
HINO MATSURI
VIZ
5/1/07
17
NARUTO VOL. 1
KISHIMOTO MASASHI
VIZ
7/1/03
18
I.O.N
TANEMURA ARINA
VIZ
4/1/08
19
THE BEST OF POKEMON ADVENTURES: RED
KUSAKA HIDENORI
VIZ
10/1/06
20
TAIL OF THE MOON VOL. 10
UEDA RINKO
VIZ
4/1/08
The biggest "new" American title on the list was Batman: The Killing Joke, a new hardcover edition of the Alan Moore and Brian Bolland story. It charted at #4, joining Alan Moore's Watchmen as another 20 year-old example of how great stories continue to sell. Marvel had no Top 20 titles in April.
Eleven volumes from six properties (Naruto, Fruits Basket, Death Note, Fullmetal Alchemist, Watchmen, and Pokemon) repeated in the Top 20 from March. Nine volumes from six properties, Vampire Knight, The Batman: Killing Joke, Hana-Kimi, Fairy Tail, I.O.N. and Tail of the Moon, were new to the Top 20 in April.