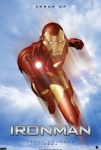 Marvel Studios' first production, Iron Man, which debuted last night, is sure to be the winner of the this weekend's box office derby, but industry analysts are anxiously waiting to see just how big that victory will be. After an early spring session that can at best be described as "lackluster," the Hollywood studios are hoping that a triumphant debut by Iron Man will kick off a stellar summer season.
Iron Man, which cost $150 million to produce and another $75 million to promote, will require a strong debut to keep the stock market analysts looking favorably on Marvel Entertainment's stock. Although with Marvel Studios' unique financing plan, the company actually has little immediate financial risk associated with the film (see "Marvel to Produce Its Own Films"),.
Now movie reviews don't mean much when it comes to summer blockbusters, but it should be pointed out that Iron Man, with a 94% positive rating on Rotten Tomatoes has scored the highest grade ever received by a superhero movie. The buzz surrounding Iron Man has been stellar and stars Robert Downey Jr. and Gwyneth Paltrow have been all over the talk shows promoting the film, which has been advertised relentlessly and is being promoted in 7/11s, Burger Kings (which has upset a children's advocacy group, see "Advocacy Group Takes on Iron Man Promo") and even Audi showrooms. The question appears to be not, "Will Iron Man be big?" but just "how big?" The major competition that Iron Man will face this weekend will not be in the theaters—it will be this week's release of Grand Theft Auto 4, which could keep a good portion of Iron Man's potential audience glued to their consoles.
The Internet movie ticket service Fandango reports that more than 80% of its ticket sales for this weekend are for Iron Man and is extrapolating out to weekend gross of more than $70 million. Gitesh Pandya, the Movie Guru, predicts that with Thursday night sales added in, the total weekend take for Iron Man will be $83 million. Variety is not making any specific prediction but indicates that the film has a good chance of earning more than the $62 million that Ang Lee's Hulk brought in its debut in 2003, which would give Iron Man the second best non-sequel superhero debut ever (after the original Spider-Man), and, noting the string of failed Iraq War movies, wryly commented that "Finally, someone's found a way to make money with a modern Middle East war movie: Just send a Marvel superhero into the fray to kick some insurgent butt."