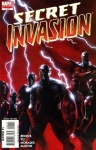 These are estimates of the sales by Diamond U.S. to comic specialty stores during April 2008.

For an overview and analysis of comic sales in April see "'Secret Invasion' Launches at 250k."

For an analysis of the dollar trends in April, see "Comic Sales Slip in April."

For our estimates of actual sales by Diamond U.S. from comic specialty stores on graphic novels shipped during April, see "Top 100 Graphic Novel Actual--April 2008."
TOP 300 COMICS -- APRIL 2008

Rank

Index

Title

Price

Pub

Est.Qty

1

351.8

SECRET INVASION #1 (Of 8) SI*

$3.99

MAR

250,263

2

155.3

NEW AVENGERS #40 SI

$2.99

MAR

110,470

3

144.8

DARK TOWER LONG ROAD HOME #2 (Of 5)*

$3.99

MAR

103,029

4

136.7

MIGHTY AVENGERS #12 SI

$2.99

MAR

97,239

5

131.3

UNCANNY X-MEN #497 DWS*

$2.99

MAR

93,369

6

130

HULK #3*

$2.99

MAR

92,487

7

129.3

THOR #8

$2.99

MAR

91,981

8

122.2

AMAZING SPIDER-MAN #555*

$2.99

MAR

86,902

9

120.6

JUSTICE LEAGUE O/AMERICA #20

$2.99

DC

85,807

10

120.5

X-FORCE #3 DWS*

$2.99

MAR

85,750

11

117.5

BUFFY VAMPIRE SLAYER #13

$2.99

DAR

83,580

12

113.4

CAPTAIN AMERICA #37

$2.99

MAR

80,635

13

113.2

JUSTICE SOCIETY O/AMERICA #14*

$2.99

DC

80,507

14

110.3

AMAZING SPIDER-MAN #556

$2.99

MAR

78,458

15

108.9

X-MEN LEGACY #210 DWS

$2.99

MAR

77,441

16

108.3

AMAZING SPIDER-MAN #557

$2.99

MAR

77,057

17

106.3

TITANS #1*

$3.50

DC

75,584

18

102.2

COUNTDOWN TO FINAL CRISIS 1

$2.99

DC

72,703

19

100.6

YOUNG X-MEN #1 DWS*

$2.99

MAR

71,593

20

100

BATMAN #675

$2.99

DC

71,138

21

98.63

COUNTDOWN TO FINAL CRISIS 2

$2.99

DC

70,163

22

98.16

COUNTDOWN TO FINAL CRISIS 3

$2.99

DC

69,829

23

97.88

COUNTDOWN TO FINAL CRISIS 4

$2.99

DC

69,630

24

92.17

CABLE #1 DWS*

$2.99

MAR

65,568

25

91.86

GREEN LANTERN #30

$2.99

DC

65,347

26

91.85

X-MEN DIVIDED WE STAND #1 (Of 2) DWS

$3.99

MAR

65,340

27

91.39

FANTASTIC FOUR #556

$2.99

MAR

65,013

28

91.19

WOLVERINE #64 DWS

$2.99

MAR

64,871

29

84.17

CABLE #2 DWS*

$2.99

MAR

59,877

30

79.96

ACTION COMICS #863*

$2.99

DC

56,882

31

79.61

ULTIMATE SPIDER-MAN #121

$2.99

MAR

56,633

32

78.9

SERENITY BETTER DAYS #2 (Of 3)

$2.99

DAR

56,128

33

78.88

LOGAN #2 (Of 3)*

$3.99

MAR

56,114

34

77.11

SUPERMAN #675*

$3.99

DC

54,855

35

74.33

AVENGERS INITIATIVE #11

$2.99

MAR

52,877

36

73.88

SUPERMAN BATMAN #47

$2.99

DC

52,557

37

73.58

AVENGERS INITIATIVE #12

$2.99

MAR

52,343

38

72.32

X-FACTOR #30 DWS

$2.99

MAR

51,447

39

69.3

WOLVERINE ORIGINS #24

$2.99

MAR

49,299

40

69.03

ULTIMATE X-MEN #93

$2.99

MAR

49,107

41

68.09

ACTION COMICS #864

$2.99

DC

48,438

42

68.08

DETECTIVE COMICS #843

$2.99

DC

48,431

43

66.57

TEEN TITANS #58

$2.99

DC

47,357

44

65.76

GREEN LANTERN CORPS #23

$2.99

DC

46,780

45

65.57

ANGEL AFTER THE FALL #6*

$3.99

IDW

46,645

46

64.19

KICK ASS #2 (MR)

$2.99

MAR

45,663

47

62.66

INCREDIBLE HERCULES #116

$2.99

MAR

44,575

48

61.06

THOR AGES O/THUNDER

$3.99

MAR

43,437

49

61.04

ULTIMATE HUMAN #4 (Of 4)

$2.99

MAR

43,423

50

59.43

MS MARVEL #26 SII

$2.99

MAR

42,277

51

58.51

PROJECT SUPERPOWERS #2 (Of 7)

$2.99

DE

41,623

52

55.51

WONDER WOMAN #19

$2.99

DC

39,489

53

54.36

CAPTAIN MARVEL #5 (Of 5) SII

$2.99

MAR

38,671

54

53.05

BRAVE & BOLD #12

$2.99

DC

37,739

55

52.66

ULTIMATE FANTASTIC FOUR #53

$2.99

MAR

37,461

56

51.38

BATMAN & OUTSIDERS #6

$2.99

DC

36,551

57

50.58

BOOSTER GOLD #8

$2.99

DC

35,982

58

50.26

IRON MAN #28

$3.99

MAR

35,754

59

48.91

DC WILDSTORM DREAMWAR #1 (Of 6)*

$2.99

DC

34,794

60

47.43

FLASH #239

$2.99

DC

33,741

61

45.03

GREEN ARROW BLACK CANARY #7

$2.99

DC

32,033

62

44.96

YOUNG AVENGERS PRESENTS #3 (Of 6)

$2.99

MAR

31,984

63

44.11

SUPERGIRL #28

$2.99

DC

31,379

64

43.41

IMMORTAL IRON FIST #14

$3.99

MAR

30,881

65

43.29

PUNISHER #56 (MR)

$2.99

MAR

30,796

66

42.85

TEEN TITANS YEAR ONE #4 (Of 6)

$2.99

DC

30,483

67

42.6

YOUNG AVENGERS PRESENTS #4 (Of 6)

$2.99

MAR

30,305

68

42.6

DAREDEVIL BLOOD O/TARANTULA

$3.99

MAR

30,305

69

42.46

STAR WARS LEGACY #22

$2.99

DAR

30,205

70

42.08

DEATH O/NEW GODS #8 (Of 8)

$3.50

DC

29,935

71

42.05

NIGHTWING #143

$2.99

DC

29,914

72

42

ANNIHILATION CONQUEST #6 (Of 6)

$3.99

MAR

29,878

73

41.79

TWELVE #4 (Of 12)

$2.99

MAR

29,729

74

41.56

PUNISHER WAR JOURNAL #18

$2.99

MAR

29,565

75

41.09

NEW EXILES #4

$2.99

MAR

29,231

76

40.68

LEGION O/SUPER HEROES #41

$2.99

DC

28,939

77

40.07

NEW EXILES #5

$2.99

MAR

28,505

78

39.94

HULK VS HERCULES WHEN TITANS COLLIDE

$3.99

MAR

28,413

79

39.62

NOVA #12

$2.99

MAR

28,185

80

39.44

BOYS #17 (MR)

$2.99

DE

28,057

81

39.09

MOON KNIGHT #17

$2.99

MAR

27,808

82

38.38

IRON MAN LEGACY O/DOOM #1 (Of 4)

$2.99

MAR

27,303

83

37.05

ROBIN #173

$2.99

DC

26,357

84

36.94

SALVATION RUN #6 (Of 7)

$2.99

DC

26,278

85

36.93

WORLD O/WARCRAFT #6

$2.99

DC

26,271

86

36.36

GHOST RIDER #22

$2.99

MAR

25,866

87

36.17

LAST DEFENDERS #2 (Of 6)

$2.99

MAR

25,731

88

36.06

TANGENT SUPERMANS REIGN #2 (Of 12)

$2.99

DC

25,652

89

36

WOLVERINE FIRST CLASS #2

$2.99

MAR

25,610

90

35.69

TRIALS O/SHAZAM #12 (Of 12)

$3.50

DC

25,389

91

34.49

WORLD WAR HULK AFTERSMASH WARBOUND #5 (Of 5)

$2.99

MAR

24,535

92

34.14

STAR WARS KNIGHTS O/OLD REPUBLIC #27 VECTOR PART 3

$2.99

DAR

24,287

93

33.79

BATMAN CONFIDENTIAL #16

$2.99

DC

24,038

94

33.53

FABLES #72 (MR)

$2.99

DC

23,853

95

33.07

GOTHAM UNDERGROUND #7 (Of 9)

$2.99

DC

23,525

96

31.82

NEW WARRIORS #11

$2.99

MAR

22,636

97

31.58

WALKING DEAD #48 (MR)

$2.99

IMA

22,465

98

31.18

BIRDS O/PREY #117

$2.99

DC

22,181

99

30.91

STAR WARS DARK TIMES #10

$2.99

DAR

21,989

100

30.17

ANITA BLAKE VH GUILTY PLEASURES #10 (Of 12)

$2.99

MAR

21,462

101

29.3

SHE-HULK 2 #28

$2.99

MAR

20,843

102

28.91

SPAWN #177

$2.95

IMA

20,566

103

28.42

BATMAN DEATH MASK #1 (Of 4)

$2.99

DC

20,217

104

26.6

SUPERMAN CONFIDENTIAL #14

$2.99

DC

18,923

105

26.32

STAR WARS REBELLION #13 SMALL VICTORIES PART 3 (Of 4)

$2.99

DAR

18,724

106

26.08

CATWOMAN #78

$2.99

DC

18,553

107

25.25

DC SP RAVEN #2 (Of 5)

$2.99

DC

17,962

108

25.08

POWERS ANNUAL 2008 (MR)

$4.95

MAR

17,841

109

24.32

ORDER #10

$2.99

MAR

17,301

110

24.21

FRANK FRAZETTAS DARK KINGDOM ONE-SHOT (MR)*

$3.99

IMA

17,223

111

23.22

WITCHBLADE #117*

$2.99

IMA

16,518

112

23.22

GLAMOURPUSS #1*

$3.00

AAR

16,518

113

22.92

JACK O/FABLES #22 (MR)

$2.99

DC

16,305

114

22.6

DARKNESS #3 (MR)*

$2.99

IMA

16,077

115

22.57

BPRD 1946 #4 (Of 5)

$2.99

DAR

16,056

116

22.56

GI JOE AMERICAS ELITE #34

$3.50

DEV

16,049

117

22.51

SUPERNATURAL RISING SON #1 (Of 6)*

$2.99

DC

16,013

118

22.45

AMAZING SPIDER-GIRL #19

$2.99

MAR

15,970

119

22.33

CRIMINAL 2 #2 (MR)

$3.50

MAR

15,885

120

22.3

RED SONJA #32

$2.99

DE

15,864

121

22.29

CHECKMATE #25

$2.99

DC

15,857

122

22.12

JSA CLASSIFIED #37

$2.99

DC

15,736

123

22.08

BLACK SUMMER #6 (MR)*

$2.99

AVA

15,707

124

21.8

SUICIDE SQUAD RAISE THE FLAG #8 (Of 8)

$2.99

DC

15,508

125

21.75

ABE SAPIEN DROWNING #3 (Of 5)

$2.99

DAR

15,473

126

21.35

EX MACHINA #36 (MR)

$2.99

DC

15,188

127

21.19

LONE RANGER #11 (MR)

$2.99

DE

15,074

128

20.94

X-MEN FIRST CLASS VOL 2 #11

$2.99

MAR

14,896

129

20.66

SPIRIT #16

$2.99

DC

14,697

130

20.4

SHADOWPACT #24

$2.99

DC

14,512

131

20.22

TERRY MOORES ECHO #2

$3.50

ABS

14,384

132

20.2

METAL MEN #7 (Of 8)

$2.99

DC

14,370

133

20.08

BLUE BEETLE #26

$3.50

DC

14,285

134

19.67

WAR IS HELL FIRST FLIGHT PHANTOM EAGLE MAX #2 (Of 5) (MR)

$3.99

MAR

13,993

135

19.59

SIMON DARK #7

$2.99

DC

13,936

136

19.53

JENNA JAMESONS SHADOW HUNTER #2*

$2.99

VIR

13,893

137

19.42

ANNA MERCURY #1 (Of 5) (MR)*

$3.99

AVA

13,815

138

19.38

ZORRO #2

$3.50

DE

13,787

139

19.28

WITCHBLADE DEVI #1*

$3.99

IMA

13,715

140

19.16

MARVEL COMICS PRESENTS #8

$3.99

MAR

13,630

141

19

CLANDESTINE #3 (Of 5)

$2.99

MAR

13,516

142

18.91

UNCLE SAM & FREEDOM FIGHTERS #8 (Of 8)

$2.99

DC

13,452

143

18.63

JONAH HEX #30

$2.99

DC

13,253

144

18.07

GIANT SIZE AVENGERS INVADERS #1

$3.99

MAR

12,855

145

17.9

NUMBER O/BEAST #1 (Of 6)*

$2.99

DC

12,734

146

17.68

ALL NEW ATOM #22

$2.99

DC

12,577

147

17.31

DOCTOR WHO #3

$3.99

IDW

12,314

148

17.26

NORTHLANDERS #5 (MR)

$2.99

DC

12,278

149

17.08

HERCULES #1*

$1.00

RAD

12,150

150

16.81

HELLBLAZER #243 (MR)

$2.99

DC

11,958

151

16.71

GEN 13 #19

$2.99

DC

11,887

152

16.04

TRANSFORMERS SPOTLIGHT GRIMLOCK

$3.99

IDW

11,411

153

16

KICK ASS #1 (MR)*

$2.99

MAR

11,382

154

15.94

SPAWN GODSLAYER #8

$2.99

IMA

11,339

155

15.88

GRENDEL BEHOLD THE DEVIL #6 (Of 8)

$3.50

DAR

11,297

156

15.85

NUMBER O/BEAST #2 (Of 6)*

$2.99

DC

11,275

157

15.74

TINY TITANS #3

$2.25

DC

11,197

158

15.48

STAR TREK YEAR FOUR ENTERPRISE EXPERIMENT #1

$3.99

IDW

11,012

159

15.26

100 BULLETS #90 (MR)

$2.99

DC

10,856

160

15.06

CALIBER #1*

$1.00

RAD

10,713

161

14.97

INFINITY INC #8

$2.99

DC

10,649

162

14.7

MIDNIGHTER #18

$2.99

DC

10,457

163

14.67

ARMY O/DARKNESS #8 LONG ROAD HOME

$3.50

DE

10,436

164

14.58

GROO HELL O/ EARTH #4 (Of 4)

$2.99

DAR

10,372

165

14.48

GOON #23

$2.99

DAR

10,301

166

14.44

DARKNESS BUTCHER (ONE SHOT)

$3.99

IMA

10,272

167

14.41

ARMY O/DARKNESS XENA WHY NOT #2 (Of 4) (MR)

$3.50

DE

10,251

168

14.34

MICE TEMPLAR #4

$2.99

IMA

10,201

169

14.11

DMZ #30 (MR)

$2.99

DC

10,038

170

13.94

YOUNG LIARS #2 (MR)

$2.99

DC

9,917

171

13.86

DOKTOR SLEEPLESS #6 (MR)*

$3.99

AVA

9,860

172

13.59

AVENGERS FAIRY TALES #2 (Of 4)

$2.99

MAR

9,668

173

13.59

NEW BATTLESTAR GALACTICA SEASON ZERO #7

$2.99

DE

9,668

174

13.4

SWORD #7 (MR)

$2.99

IMA

9,532

175

13.22

GRIMM FAIRY TALES #26 (MR)

$2.99

ZEN

9,404

176

13.17

DARKNESS VS EVA #2 (Of 4) (MR)

$3.50

DE

9,369

177

13.05

STAR TREK NEW FRONTIER #2

$3.99

IDW

9,284

178

12.94

DEAD O/NIGHT FEATURING MAN THING #3 (Of 4) (MR)

$3.99

MAR

9,205

179

12.8

AVENGERS CLASSIC #11

$2.99

MAR

9,106

180

12.75

TALES FROM WONDERLAND QUEEN O/HEARTS #1 (MR)

$2.99

ZEN

9,070

181

12.73

SIMPSONS COMICS #141

$2.99

BON

9,056

182

12.7

CONAN LEGACY FRAZETTA COVERS #2 (Of 8) GOD I/ BOWL

$5.99

DAR

9,035

183

12.56

SUPER FRIENDS #2

$2.25

DC

8,935

184

12.55

TRANSFORMERS FOCUS O/ DECEPTICONS

$2.99

IDW

8,928

185

12.33

SECRET HISTORY AUTHORITY HAWKSMOOR #2 (Of 6)

$2.99

DC

8,771

186

12.07

CAPTAIN ACTION #0*

$1.99

MOO

8,586

187

12.07

BAT LASH #5 (Of 6)

$2.99

DC

8,586

188

11.97

JUSTICE LEAGUE UNLTD #44

$2.25

DC

8,515

189

11.69

AMAZING SPIDER-MAN #544 OMD

$3.99

MAR

8,316

190

11.67

OMEGA UNKNOWN #7 (Of 10)

$2.99

MAR

8,302

191

11.61

FRIDAY THE 13TH ABUSER & ABUSED #1 (MR)

$3.50

DC

8,259

192

11.57

GRIMM FAIRY TALES PIPER #2 (Of 4) (MR)

$2.99

ZEN

8,231

193

11.42

MARVEL SPOTLIGHT IRON MAN MOVIE

$2.99

MAR

8,124

194

11.13

HALLOWEEN NIGHTDANCE #3 (MR)*

$3.50

DEV

7,918

195

11.09

SPIDER-MAN FAMILY #8

$4.99

MAR

7,889

196

10.86

WORLDS O/DUNGEONS & DRAGONS #1*

$5.50

DEV

7,726

197

10.84

GEORGE R R MARTINS WILD CARDS #1 (Of 6) HARD CALL

$2.99

DAB

7,711

198

10.71

IRON MAN HULK SAMPLER (BUNDLE O/ 25) (NET)

$6.25

MAR

7,619

199

10.6

BATMAN STRIKES #44

$2.25

DC

7,541

200

10.59

FRIENDLY NEIGHBORHOOD SPIDER-MAN #24 OMD

$3.99

MAR

7,534

201

10.55

LOCKE & KEY #3*

$3.99

IDW

7,505

202

10.5

AMERICAN SPLENDOR SEASON TWO #1 (Of 4) (MR)

$2.99

DC

7,469

203

10.5

TEEN TITANS GO #54

$2.25

DC

7,469

204

10.47

ST TNG INTELLIGENCE GATHERING #4 (Of 5)

$3.99

IDW

7,448

205

10.16

YOUNGBLOOD #3

$2.99

IMA

7,228

206

10.06

COUNTDOWN SP KAMANDI 80 PAGE GIANT

$4.99

DC

7,156

207

10

AVENGERS INVADERS SKETCHBOOK (BUNDLE OF 25) (NET)

$6.25

MAR

7,114

208

10

NEW DYNAMIX #2 (Of 5)*

$2.99

DC

7,114

209

9.94

SCALPED #16 (MR)

$2.99

DC

7,071

210

9.93

GHOST WHISPERER #2

$3.99

IDW

7,064

211

9.9

BART SIMPSON COMICS #41

$2.99

BON

7,043

212

9.87

SONIC HEDGEHOG #187

$2.25

ARC

7,021

213

9.75

X-FORCE #2 DWS*

$2.99

MAR

6,936

214

9.62

JIM BUTCHERS DRESDEN FILES #1 (Of 4) WELCOME TO THE JUNGLE

$3.99

DAB

6,843

215

9.46

PIGEONS FROM HELL #1

$2.99

DAR

6,730

216

9.46

DOCTOR WHO CLASSICS #5

$3.99

IDW

6,730

217

9.26

EXTERMINATORS #28 (MR)

$2.99

DC

6,587

218

8.94

ULTIMATES 3 #3 (Of 5)*

$2.99

MAR

6,360

219

8.9

LEGION O/SUPER HEROES I/ 31ST CENTURY #13

$2.25

DC

6,331

220

8.66

LORDS O/AVALON SOD #3 (Of 6)

$2.99

MAR

6,161

221

8.58

HEDGE KNIGHT 2 SWORN SWORD #6 (Of 6)

$2.99

MAR

6,104

222

8.4

HACK SLASH SER #11 (MR)*

$3.50

DEV

5,976

223

8.39

SCUD DISPOSABLE ASSASSIN #23

$3.50

IMA

5,968

224

8.24

VINYL UNDERGROUND #7 (MR)

$2.99

DC

5,862

225

8.2

MARVEL ADVS SPIDER-MAN #38

$2.99

MAR

5,833

226

8.08

PROGRAMME #10 (Of 12)

$2.99

DC

5,748

227

7.93

SOLEIL SAMPLER (BUNDLE O/ 25) (NET)

$6.25

MAR

5,641

228

7.91

USAGI YOJIMBO #111

$2.99

DAR

5,627

229

7.81

MARVEL ADVS AVENGERS #23

$2.99

MAR

5,556

230

7.7

CRAWL SPACE XXXOMBIES #4 (MR)

$2.99

IMA

5,478

231

7.67

DYNAMO 5 #12

$3.50

IMA

5,456

232

7.61

ELEPHANTMEN WAR TOYS #3 (Of 3)

$2.99

IMA

5,414

233

7.57

HIGHLANDER WAY O/SWORD #4

$3.50

DE

5,385

234

7.52

CIVIL WAR CHRONICLES #10

$4.99

MAR

5,350

235

7.43

FALLEN ANGEL IDW #26 (MR)

$3.99

IDW

5,286

236

7.42

DRAGONLANCE CHRONICLES VOL 3 ROBERTS CVR A #9 (Of 12)

$3.50

DEV

5,278

237

7.39

MARVEL ILLUSTRATED ILIAD #5 (Of 8)

$2.99

MAR

5,257

238

7.38

KISS 4K #6

$3.99

PLA

5,250

239

7.37

DEAD SPACE #2 (Of 6)

$2.99

IMA

5,243

240

7.26

WORMWOOD CALAMARI RISING #3

$3.99

IDW

5,165

241

7.19

FEAR AGENT #20 HATCHET JOB (PT 4 Of 5)

$2.99

DAR

5,115

242

7.18

CRIMINAL MACABRE MY DEMON BABY #4 (Of 4)

$2.99

DAR

5,108

243

7.05

MACK BOLAN EXECUTIONER DEVILS TOOLS #1 (Of 5)

$3.99

IDW

5,015

244

7.05

DRAGONLANCE CHRONICLES VOL 3 ROBERTS CVR A #10 (Of 12)

$3.50

DEV

5,015

245

6.86

LOCAL #11 (Of 12) (MR)

$2.99

ONI

4,880

246

6.84

MARVEL ADVS IRON MAN #12

$2.99

MAR

4,866

247

6.8

BUFFY VAMPIRE SLAYER #7

$2.99

DAR

4,837

248

6.79

POWER PACK DAY ONE #2 (Of 4)

$2.99

MAR

4,830

249

6.78

BUFFY VAMPIRE SLAYER #6

$2.99

DAR

4,823

250

6.77

WORMWOOD CALAMARI RISING #4

$3.99

IDW

4,816

251

6.68

SONIC X #32

$2.25

ARC

4,752

252

6.67

SHONEN JUMP MAY 08

$4.99

VIZ

4,745

253

6.53

MARVEL ADVS HULK #10

$2.99

MAR

4,645

254

6.48

CTHULHU TALES #1*

$3.99

BOO

4,610

255

6.43

ANGEL AFTER THE FALL #4*

$3.99

IDW

4,574

256

6.4

CASANOVA #13 (MR)

$1.99

IMA

4,553

257

6.33

TRANSFORMERS BEST O/UK DINOBOTS #6

$3.99

IDW

4,503

258

6.3

FX #2 (Of 6)

$3.99