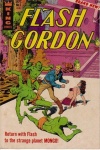 Variety is reporting that Sony Pictures has won "a spirited bidding war" to obtain the feature film rights to the Hearst Syndicate's Flash Gordon. Created by Alex Raymond in 1934, the Flash Gordon newspaper strip continued into the twenty-first century and the property has enjoyed success in movie serials and comic books, on radio and TV as well as on the big screen, most recently in a colorful (some might say "campy") Dino De Laurentiis production in 1980. A new 22-episode Flash Gordon TV series just finished its run on the Sci Fi Channel in February (see "Flash Gordon Cast").
According to Variety, "Post Iron Man, studios are showing a heightened appetite for franchise-able, branded fare," and Sony has "the intention to hatch an edgy incarnation of the classic serial."
Checker Books is currently in the process of reprinting the Flash Gordon newspaper strip in a series of hardcover collections.