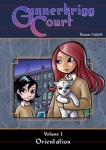 Archaia Studios Press has announced that it is going to reorganize, and that co-publisher Aki Liao is withdrawing from an ongoing role at the company due to personal reasons. The reorganization will result in a publishing hiatus, but the company is promising that it will release its products on a more reliable schedule when publishing resumes.
Archaia has also retained the DAK Group as an investment bank to find an outside investor or strategic partner to acquire Liao's stake in the company.
Archaia has some important releases in the pipe, including Gunnerkrigg Court (see "Mark Smylie on the Next Mouse Guard") and the Mouse Guard Roleplaying Game (see "Mouse Guard RPG").