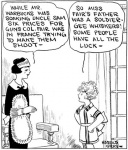 The first volume of IDW's collection of Little Orphan Annie, due for release June 11th, will include a previously unpublished strip from the first month, found in the Harold Gray Archives at Boston University. Dean Mullaney, who designed and packaged the book, described the find:
"Entitled, 'Information, Please,' it was originally intended for August 30, 1924, three weeks after the strip began. It paints an unflattering picture of the as-yet-to-be-introduced Oliver 'Daddy' Warbucks as a despicable munitions profiteer in World War I (his name is 'War-bucks,' after all). It's unknown whether this daily was rejected by the New York News or by Gray himself; however, as Gray crossed out August 30th and scribbled in September 1st, and then never used it at all, it's likely that the artist himself had second thoughts."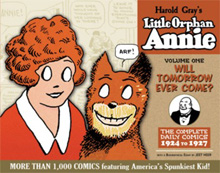 The collection will include over 1000 other strips, comprising nine complete stories, beginning with the first strips published in 1924 and running through the end of 1927.
Nearly every strip has been reproduced from original art or syndicate proof from the Harold Gray Archives.
The collection also includes a detailed look at Gray by comics scholar Jeet Heer.
Mullaney has been nominated for an Eisner for his design work on IDW's Terry and the Pirates volume, which was also nominated for an Eisner as the best archival strip collection (see "Eisner Awards Share the Wealth").