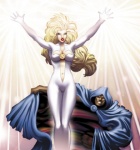 In spite of the recent spate of comic and fantasy-based films that have done well at the box office, not all of the many comic-based properties are faring well in Tinseltown. Comics 2Film.com reports that Dimension Films has bagged its adaptation of Marvel's Cloak And Dagger (see 'Dimension To Develop Cloak and Dagger Film'). David Tischman (Cable, American Century) was working on a screenplay for Cloak and Dagger, but is no longer attached to project.
Comics 2Film noted that Avi Arad, who oversees Marvel's film and TV deals, has stated that Cloak and Dagger may be better suited for a television series.

Certainly out of all of Marvel's 4,700 characters, Cloak and Dagger may appear to be an unlikely choice.

This is especially true since the X-Men film and Spider-Man are true 'tentpoles,' major film franchises that studios build their schedules around, which may make it difficult for Marvel to go back to more modest projects with lower budgets and lower expectations.